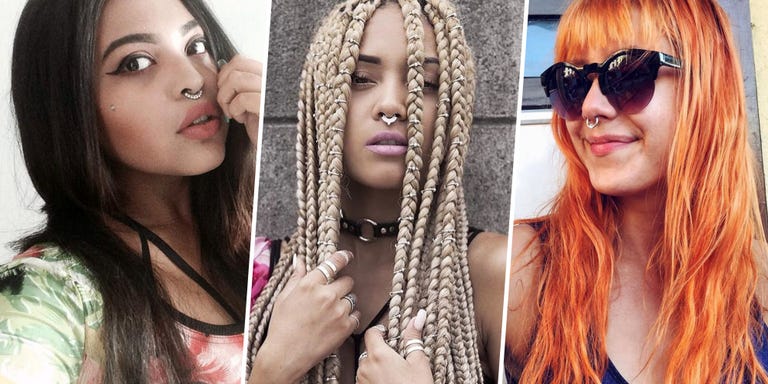 If you have a septum piercing, congratulations—you're automatically cool. Okay, yes, that's a generalization, but I'm also sticking to it, because have you seen someone with a septum ring? Have you really looked at them and stared at their nose? Because septum jewelry (fake or real) is the double-ear piercings of adulthood, which means I officially want one. And now, you will, too.
So to get you on my level of love, I've hand-picked the most inspo-worthy septum photos, ahead. Be prepared to get transported back to your middle-school days of FOMO.
1
Okay, This Diamond-Studded Ring, Tho
2
And This Chandelier-Level Ring!
3
Um, This Unassuming Diamond-Dropped Ring
4
And This Glitzed-Out V-Shaped Ring
5
Please Bow Down to This Mega-Thick Cuff
6
And This Cute, Itty-Bitty Horseshoe
7
Bah, This Bejeweled Ring!
8
And This Very Classic, Very *Cool* Ring
9
And Finally, This Barely-There Baby Ring That Makes Us Cry