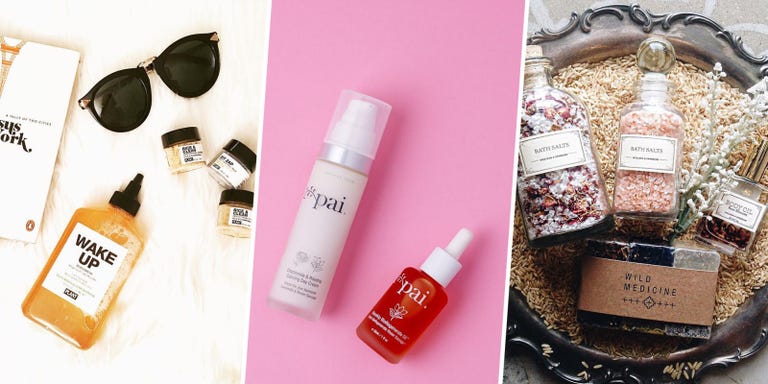 Instagram/Design by Betsy Farrell
As somewhat of a natural beauty fiend, I'll try everything at least once, from natural deodorant to herbal shampoo to natural sunscreen to suss out how to achieve glowing skin and non-greasy hair without all of the added icky chemicals. Here, 7 of my favorite under-the-radar organic brands that do it all, from natural face masks to bath salts to serums (AKA paradise for those of us with sensitive skin).
Calling Card: Poppy graphics and wellness slogans.
Why You Should Care: These Brooklyn-based goodies are the brainchild of a husband-and-wife duo who wanted to create a line of ethical skincare products. (We can probably thank their architecture background for the clean design). Calming or invigorating bath products sell under slogans like "Calm Down" and "Wake Up" and they benefit a good cause. PLANT products are made by adults with physical and mental disabilities through the BKLYN United Workshop, which provides them with paid work opportunities (so consider it a win-win).
For Starters: Get Happy Organic Body Wash, $20; plantapothecary.com.
2
Good Medicine Beauty Lab
Calling Card: Colorful products inspired by the Southwestern desert.
Why You Should Care: A collective of five women started Good Medicine Beauty Lab with the Southwestern desert as their muse, so naturally their products are all about desert botanicals, with some grit. If "exfoliation" is always at the top of your homework sheet after leaving the facialist, look into the body-scrubbing products formulated with grains and sand (that are effective but gentle). Their products are wonderful for all skin types and you can shop them based on what the site recommends for your skin needs.
For starters: Red Mineral Polish, $38; goodmedicinebeautylab.com.
Calling Card: 'Grammable packing and plant stem cell ingredients.
Why You Should Care: Acure Organics is a family-owned brand that specializes in pretty much everything (from game-changing shampoos to light skincare products to natural wellness supplements) derived from plant and food-based ingredients. Their *plant stem cell* products are truly next-level once you wrap your head around that concept, and the brand recently started selling at your local Target (so it's even more accessible than you thought).
For Starters: Clarifying Shampoo, $10; acureorganics.com.
Calling Card: Herbal and natural ingredients from its native U.K., such as cold-pressed oils, chickweed, and rose water.
Why You Should Care: If you've always wanted to resemble a true English rose, check out Odylique's calming and soothing skin products that are specifically designed with sensitive skin in mind. Handmade in a workshop in Suffolk, England, the holy grail moisturizing products are gaining a following on this side of the pond, too (celebrity fans like Amanda Seyfried swear by them).
For Starters: Timeless Rose Moisturizer, $48; odylique.com.
Calling Card: Vitamin- and antioxidant-enriched skin salves with discreet labels.
Why You Should Care: Created by makeup artist Dina Altieri (who's worked for Bobbi Brown and Laura Mercier in the past), Hush + Dotti creates non-toxic natural skin products that are perfect for cleansing, priming, and exfoliating, though its line of natural makeup products (from organic lipsticks to foundations) have also been embraced by makeup artists and celebrities like Emma Watson.
For Starters: Balm Cleanser Original, $45; hushdotti.com.
Calling Card: Vegan products crafted without the usual suspects sourced from animals (e.g. lanolin, beeswax, and collagen).
Why You Should Care: Growing up, Indian-born founder Anit Hora learned the traditional Ayurvedic system of healing, and she translates this holistic view of beauty to her line Mullein & Sparrow. Everything about these products feel luxurious, from the "treat yourself" bath salts to the oils and serums packaged with floating natural ingredients in them. Plus, we love that this brand is transparent enough to show which products are organic and which aren't.
For Starters: Pink Hamalayan Bath Salts, $42; mulleinandsparrow.com.
Calling Card: Beautifully packaged ingredients with drawings of the main herbs found in the ingredients list of each product.
Why You Should Care: Another skincare brand based in the U.K., Pai Skincare was created by founder Sarah Brown after she couldn't find any products that would help her super-reactive, sensitive skin. The result is a superb collection of skin heroes that repair and regenerate skin without any flare-ups or itching.
For Starters: Rosehip Bioregenerate Oil, $40; paiskincare.com.