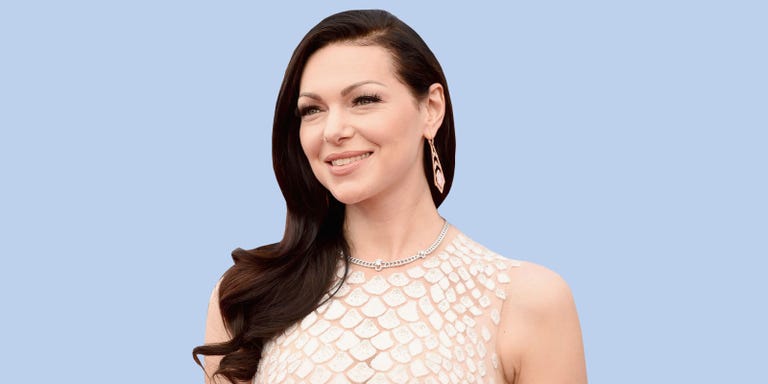 If makeup artists have taught us anything, it's that you can learn a lot about a person while you smoke their eyes and sculpt their cheeks. And for celebrities, it's not just that you're leaving your face in someone else's hands—practically by default, they become a friend and confidante. Such has been the case for Laura Prepon and makeup artist Tina Turnbow, the woman behind her latest red carpet looks. Here, a few things Turnbow has learned from having the Orange Is the New Black actress in her chair.
1
She's Adventurous with Beauty
"The first time I worked with Laura was for the Orange Is the New Black season 3 premiere. I learned that night she's always down to experiment. She's adventurous! She let me go with a multi-colored eye the first time I worked with her, which is very daring. It was a mix of navy, gold, purple and green. It was one of her all time favorites and reminiscent of Cher in the '70s."
2
She's a Pro at Doing Her Own Makeup
"She does a great job doing makeup on herself. She's definitely more of an eye person than a red-lip gal. She's even great at applying her own lashes!"
3
She Has *Killer* Taste in Music
"She is into the best music, from jazz to rock to indie punk. She puts it on during glam time and I'm usually boppin' to Nirvana!"
4
She's Funnier in Person Than You Think
"When she has under-eye puffiness, she's the first to admit 'Girrrrl the bags are outta control!'"
"I've been perfecting my smoky eye skills working with her!"
6
She's Inspiring to Be Around
"She tries to grow and get better with everything she does, both professionally and personally. She's always pushing and striving to evolve. It's inspiring, no doubt!"
7
She Always Shows Her Glam Squad Love
"She carved out time to do this fun, creative photo shoot with me. It was so generous of her to support my passion for photography. She shared the pics, too. And she's always thanking her glam squad on Instagram."