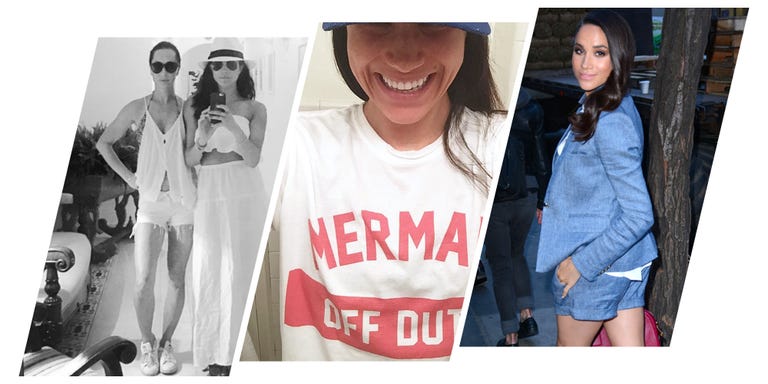 Meghan Markle is poised to become a literal princess thanks to her relationship with Prince Harry getting more and more serious—which means we should expect a change in her wardrobe. Meghan already has chic, sophisticated taste—but she skews slightly more "cool girl millennial" than Kate Middleton, who opts for pretty traditional and buttoned-up apparel.
While we don't expect Meghan to completely abandon figure-hugging shifts in favor of a-line garden dresses, her wardrobe will most likely become a bit more conservative if she marries Harry. Which is kind of a shame because women—royal or not—should feel free to dress however they want. But that aside, here are some past outfits Meghan probably won't repeat as HRH.
1
This "Mermaid Off Duty" Shirt
While we'd love nothing more than for Meghan to show up to a royal engagement wearing this t-shirt (it couldn't be more iconic), we're thinking it'll end up in a "not in front of the Queen" pile.
Like, it's cute and fine. But probably not "lemme wear this to the coronation" cute and fine.
3
Liteally Any and All Bikinis
Nothing would be more empowering and amazing than Meghan continuing to wear bikinis on the beach like a normal once she's royal (people wear swimsuits, it's fine!). But considering that seeing Kate in swimwear is a highly rare occurrence—in part because of how disgusting people are about sexualizing her body—it seems unlikely.
4
These Pre-Faded Bootcut Jeans
The royals rarely wear denim, and when they do, it's tailored to perfection and decidedly not washed.
5
Anything with Spaghetti Straps
Meghan Markle—much like Kate Middleton and honestly anyone who lived through the '90s—is a big fan of spaghetti straps. But it should be noted that Kate abandoned her own skinny-strap tanks when she married Prince William, which means they probably aren't princess protocol. That said, Kate *has* rocked the look in evening wear, so there's hope for Meghan yet.
6
These Cute Above-the-Knee Shorts
Again, to use Kate Middleton as an example of how royals change their style post-wedding, the Duchess hasn't been seen in short-shorts since her infamous roller derby outfit. They just aren't done. But who knows? Maybe Meghan will form a bold new squad of shorts-wearing princesses.
7
This Ruched Jersey Skirt
To be fair, this outfit was worn in 2012, a strong year for jersey fabrics. But as a royal, Meghan will likely favor more luxe textures and material—and stay away from stretched ruching. Or not. Either way we're into it.
While the long sleeves on this dress are pretty elegant (Queen Elizabeth would surely approve), the shape is a bit junior. Expect Meghan to continue favoring close-cut silhouettes that come to the knee.
To be honest, if Meghan Markle somehow made crop tops work as a royal, she'd become hero status.
10
These Massively Baggy Pants
On a similar note, if Meghan Markle makes baggy wide-legged pants happen for royals, we will truly bow down.
11
This Empire Waist Dress
While there is certainly a time and place for empire waists, they tend to inspire mass speculation about whether or not one is pregnant (being a woman is so fun!), which can be tricky when you're a royal.