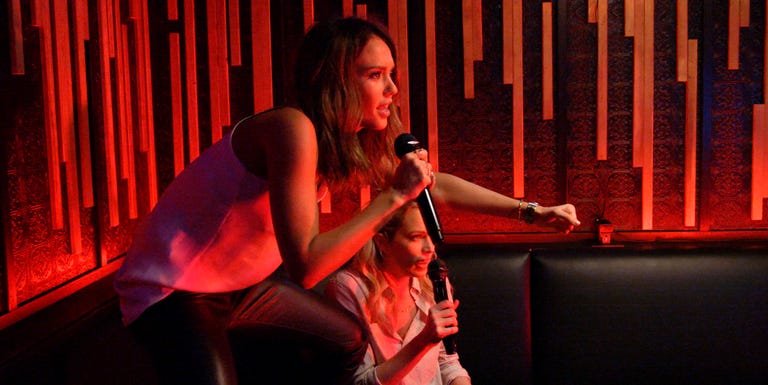 Fun adult activity: pounding some (quite a bit of) tequila, tripping onto the stage, and singing (screaming) your heart out to "Champagne Supernova" as the whole bar joins in, ending with the other patrons carrying you out on their shoulders. Here, 15 songs with which you will impress (or, at very least, entertain) your friends. And everyone else, unless you've shelled out for a private room. No pressure.
1
Aretha Franklin, "Respect"
For the intermediate to advanced singer—or those who've got a lot of (liquid) courage and/or friends—everyone should nonetheless tackle this at least once in their karaoke careers.
2
The B-52s, "Love Shack"
Really fun, even if you aren't so faded yet that you'd incorporate some sort of locomotion choreo into your routine.
3
Backstreet Boys, "I Want It That Way"
Mellow enough that you don't have to worry about getting all the words out in time, vibe-y enough that that won't matter anyway, because the crowd will probably drown you out.
4
Bonnie Tyler, "Total Eclipse of the Heart"
After a bit, you won't even need to check the lyrics, so you can concentrate on the most extra dance routine possible with, obviously, lots of dramatic whipping back and forth.
5
Britney Spears, "Baby One More Time"
Classic. Everybody knows it, even if it's just the chorus. (Or you could, you know, just consult the screen.) These are the makings of a solid karaoke song choice.
6
Destiny's Child, "Say My Name"
7
Elton John, "Bennie and the Jets"
They did this in some film's karaoke scene, didn't they? (They did.)
8
Eurythmics, "Sweet Dreams (Are Made of This)"
"Wow, are those the real words," you ask yourself as everybody sings the wrong ones, but it's fun anyway.
Very manageable if you don't try any Michael Jackson shenanigans, because you cannot, and it will be embarrassing when you can't hit that high note.
10
Katy Perry, "Teenage Dream"
If you've got your eye on someone in attendance. Or if you want to be the everyone has their eyes on.
11
Miley Cyrus, "Party in the U.S.A."
How to end up with 17 new friends onstage with you, all shouting "AY AY AY AY AYAYAYYYYYYYY" until you're hoarse.
12
Neil Diamond, "Sweet Caroline"
With that car commercial playing on the networks now, this is probably simmering in your subconsciousness.
13
Robyn, "Call Your Girlfriend"
Very recently, this writer witnessed a lone man singing this forlornly at a karaoke bar in New Orleans. It was highly cinematic and a little bit heartbreaking.
15
Vanessa Carlton, "A Thousand Miles"
I'm not quite sure how this one burrowed its way into the collective cconsciousness, but for some reason, everybody of a certain age knows and adores this song, which will play to your advantage when you step up to the mic.