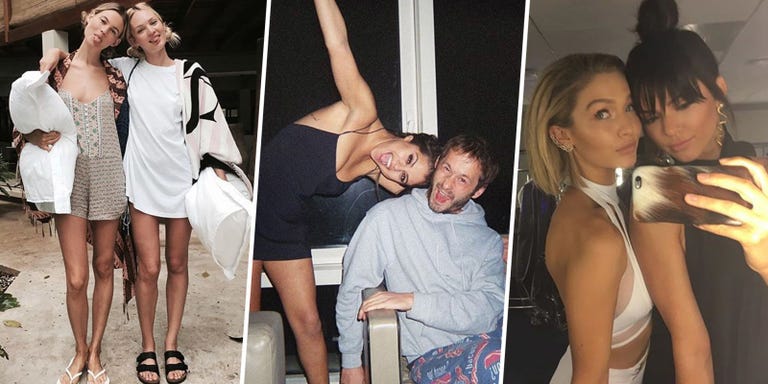 We have been so blind—there's an epidemic of World War Z proportions brewing right under our noses, and we haven't even noticed. What is this scourge called, and what does it look like? 1) Head Magnets, which have already overtaken Hollywood. (Pray for their souls.) And 2) Sufferers. They come in pairs, and appear to have negative and positive magnets in their craniums that attract each other, hence the leaning. Review these examples (and your will), and get all your affairs in order. No one is safe.
Would not be mad about contracting Head Magnets if I got it from Jon Hamm, TBH.
Kourtney Kardashian, Jen Atkin, Miranda Kerr, and Lily Aldridge
A rare case of triple Head Magnets.
An even rarer example of the sideways strain.
Gigi Hadid and Karlie Kloss
If you feel your head gravitating toward your friend's before a selfie, seek medical treatment immediately.
Gigi Hadid and Kendall Jenner
Behati Prinsloo and Candice Swanepoel
The upside is that it's cute.
Karlie Kloss and Gigi Hadid
The downside: "There is no hope for salvation. Good luck." —the CDC
Karlie Kloss, Gigi Hadid, and Kendall Jenner
Very flattering, though, especially if you take the Gigi position in this Head Magnet sandwich.
Candice Swanepoel and Alessandra Ambrosio
Even better if you catch it backstage at Dolce & Gabbana.
Bella Hadid and Naomi Campbell
Okay, forget what I said about Jon Hamm. Naomi all the way.
Kris Jenner and Khloé Kardashian
PSA: You can get it from your mom.
Kourtney and Kim Kardashian
Kanye West and Kim Kardashian
Absolutely no head-to-head contact is the only 100 percent effective method against Head Magnets, so don't be like Kimye.