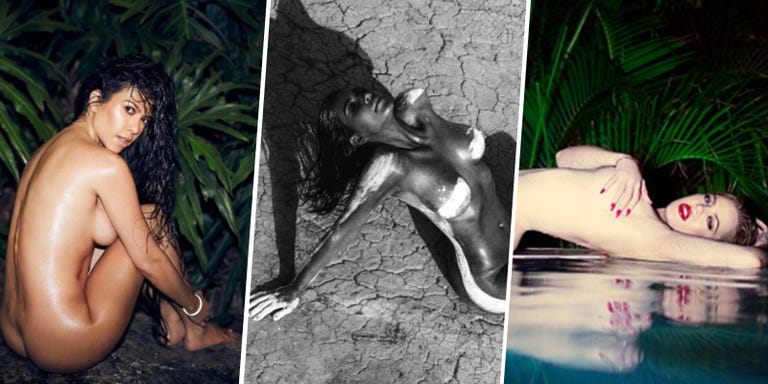 The Kardashians have a long and illustrious tradition of getting naked, and more power to them. The female body is beautiful and worthy of celebration, so why not? (YAY, feminism!) But there's regular nude (think: a strategically placed blanket) and then there's literally-zero-clothes-to-be-found nude—and Khloé, Kim and Kourtney are all about the latter. Here are their most naked moments—with a surprise appearance from Kris Jenner!
When Kim Broke the Internet
Kim Kardashian's infamous Paper Magazine shoot literally shattered the internet, and can best be described as 🍑. 
And Then Broke Bette Midler
Despite Kim getting naked many, many times—stars like Bette Midler and Chloë Grace Moretz were less than supportive of this particular image. "Kim Kardashian tweeted a nude selfie today," Midler wrote on Twitter. "If Kim wants us to see a part of her we've never seen, she's gonna have to swallow the camera."
When Kim Created #Content
When Kim was getting her website off the ground, she took part in a nude dessert photo shoot and filmed the process for Keeping Up with the Kardashians. Haters will say it's photoshop.
And Khloé Created #Content
Gotta keep the website lit, right?
When Kourtney Went Nude in the Name of Art
When Kim Embraced Her Pregnancy
Kim posted this pregnant nude as a response to being body-shamed during her pregnancy. She was criticized for being both too skinny and too "big," and at the end of the day dealt with the issue by embracing her body in the most public way possible. 
But Really, Kourtney Did It First
She was nine months pregnant with her third child at the time.
Actually, Kris Jenner Did
The original nude Kardashian.
When All Kim Wore Was Some Emojis
This cat emoji cannot even.
When Kim Chilled on This Random Mattress
And then Upgraded to a Real Bed
This nude is from British GG, and is probably the most discreet of the images shot.
And Went Blonde While She Was at It
Feel free to be inspired by her confidence.
When Khloé Proved That "Stronger Looks Better Naked"
For the cover of her book, no less.
When Kim Chilled in Some Silver Paint
To be fair, who doesn't spend their free time naked in a giant puddle of silver paint. #normal.
When Khloé Was Like "I See Your Silver Paint, and Raise You This Pool"
When Kourtney Looked Like an IRL Mermaid
Because when your friends are photographers, you put them to use.
Most epic hair flip ever.
And Finally, When Khloé Mixed Nudity and Politics