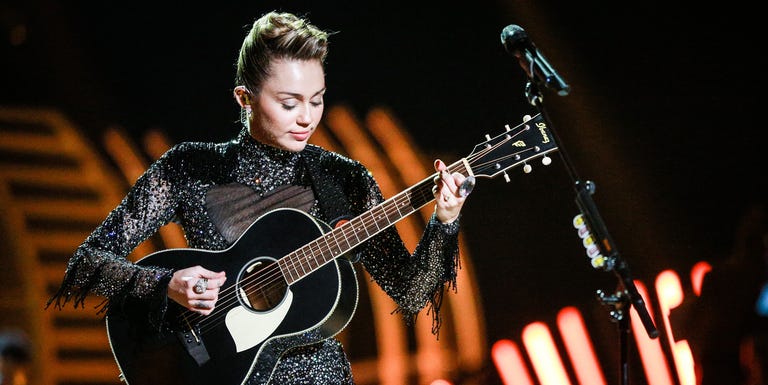 These days, she mostly sings about Liam Hemsworth (falling in love with him, re-falling in love with him, possibly leaving Stella Maxwell for him, etc.), but don't forget that she's got six whole studio albums to her name, plus some singles to Hannah Montana's. With that much oeuvre to pick through, we've gone ahead and named the 10 best tracks, arranged from great to greatest.
The visual reads kind of silly now, but with this song, we've got an artist at a turning point. (Hannah Montana ≠ Miley Cyrus.) So with this distancing of herself from her Disney image with an "edgier," pure pop sound, we explore Cyrus' multiple reinventions.
Then a quick pivot to this collaboration with Mike WiLL Made-It on this club banger, which is mostly on here because it's catchy as hell, and she looks really good in the video.
Then back to Early Evolution Miley with the Big Voice, an asset that has sometimes been overshadowed by her stage antics in later years. Not here, though, in this ballad from the main score for The Last Song, the weepy Nicholas Sparks film Miley and Liam Hemsworth met shooting. A good, old-fashioned love song sung with heart.
And then a breakup song/certified bop that soundtracked some of our childhoods. While many musicians use their love lives as inspiration—sometimes over and over and over again—this strikes a delicate balance between lingering and moving on in a big way, the moving on bit being more prominent.
Another breakup song, but one that's more emotionally deep and epic-feeling at moments—growth, you see? The best record off Bangerz.
Followed by even more growth in this massive love letter to Liam Hemsworth, which might feel cloying in its sweetness if we didn't know that it was genuine. Read our line-by-line analysis here.
Our top four begins with this party anthem, which, even if she has proven that she can deliver on feely tunes, Cyrus does really, really well. More points for achieving linguistic ubiquity (i.e., when everybody said "can't stop, won't stop" to death).
Same here, which is definitely a testament to her ability to create memorable pop-cultural moments. But more than that, you've got a soaring melody, vulnerable lyrics, and yes, that music video. In this internet age, that makes it the whole package.
However, in second place, we return to the "old Miley," whose videos had more weird CGI than high-budget construction equipment. But who cares when the song will inspire you to keep going, something we could all use these days? One could argue this is more relevant now than ever, but even self-contained, that boundless hope is what lands this one so near the top.
Ranking any artist's songs is incredibly difficult and subjective—except this time, because this is unequivocally Miley Cyrus' best record if you agree that the point of music is to unite people with a series of notes that denote a particular feeling. And this does exactly that with one of the catchiest hooks in modern pop that never fails to get everyone on the dance floor.