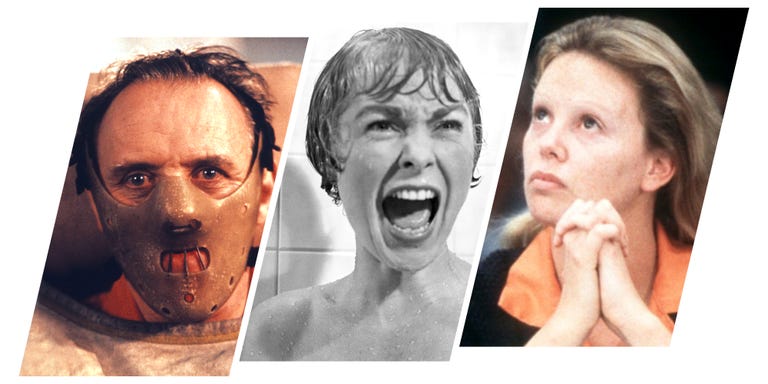 What's the fear of chainsaws called? Common sense—unless you're so thoroughly over this trash world you're like, "Yeah, I'm down for whatever, Jason." Either way, everybody loves a good scare, which these 10 terrifying serial-killer movies provide in spades. Just be prepared to sleep with the lights on—or in the police station, up to you.
Endlessly quotable and still highly fascinating for its depiction of a high-rolling lifestyle foreign to millennials because we enjoy avocado toast, the film adaptation of Bret Easton Ellis' novel shows toxic masculinity at its most deadly. Especially scary given how, besides the trophy business cards and owning property, how true-to-life this is!
In contrast, this is about nice old ladies mercy-poisoning dudes deemed "un-marriageable" to save them from lives of loneliness. A twist on the standard spinster storyline that's funny enough for scaredy cats—scaredy cats who like Cary Grant.
The one Charlize Theron gained weight and wore prosthetics for, but also the (really good) one about serial killer Aileen Wuornos and the painful circumstances that led to her murdering seven men.
Story by Quentin Tarantino, so you know how it goes: loads of violence, some might say gratuitous, but tempered with satire and a cool, psychedelic style. You will have thoughts about why we, as a society, romanticize crime.
Dude murders women and films their dying expressions, which sounds highly modern, actually. Also known as the first slasher flick, so would be good from an educational standpoint, ha.
6
'Perfume: The Story of a Murderer'
How did they make a movie about a serial killer so lush but sinister at the same time? Set it in France and cast Ben Whishaw as the murderer, hell-bent on creating the ideal scent, one young woman's corpse at a time. Might persuade you never to wear deodorant again.
The foundation on which all other thrillers worth their salt were built.
If you too are scared of Kevin Spacey for seemingly no reason at all, watch this to rationalize your fears. Great murder theme (love a themed murder), nice gore, and ace performances from Brad Pitt and Morgan Freeman and He Who Shall Not Be Named.
9
'The Silence of the Lambs'
Nothing says Halloween like Hannibal Lecter and skin suits, so put this on and keep the remote nearby so you can watch 87 percent of it on mute.
The biography of Ted Cruz 😜 .