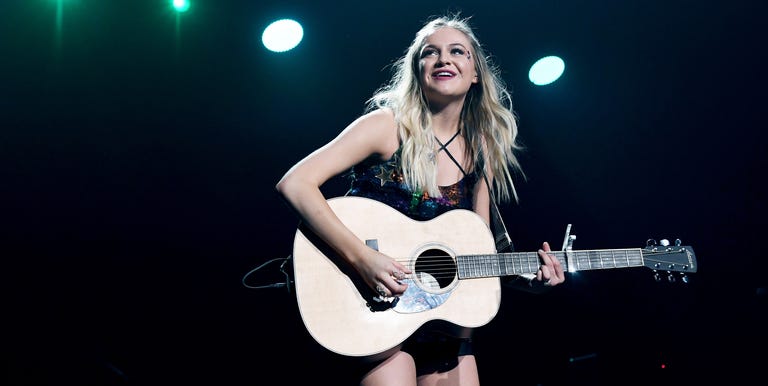 "I listen to everything—except country." It's a thing people say, but what a way to rule out an entire genre of music that's not without merit, even if there is also a weird fixation on trucks and miscellaneous farming equipment. Here, open your mind and hit play on 10 of the year's best offerings—you never know what you might like.
1
Brett Young, "Like I Loved You"
Maybe that house doesn't say "I'm sad and vulnerable," exactly, but a catchy breakup song nonetheless. Especially into the bit that goes "Who do you think you are trying to tell me/WE CAN STILL BE FRIENDS/HANG OUT ON THE WEEKENDS." (Caps mine.)
2
Blake Shelton, "I'll Name the Dogs"
I know him! Sure sounds like ol' Blake's ready to settle down in this heavily pro-marriage anthem, but, like, girls can be funny *and* pretty, leaving Blake Shelton with nothing to bring to the table? Caveats aside, the video is adorable and not a bad tune if you can get past the aforementioned division of duties.
3
Chris Janson, "Fix a Drink"
Chris Janson is over Fox and CNN too and knows that the "world's in the toilet, and the market's in the tank," which is not unsurprising for a song of this genre. He also knows the best way to deal with 2017 is to drink, so approving up-nods all around.
4
Dustin Lynch, "Small Town Boy"
He does seems appreciative of this girl who doesn't mind his old boots and John Deere-ing, so that's nice. Nice voice too.
5
Kelsea Ballerini, "Miss Me More"
With a massive hook, Ballerini delivers a feminist anthem about finding oneself after an ended relationship, which is a refreshing twist on the mopey subcategory of breakup songs.
6
Kip Moore, "More Girls Like You"
Oh, look—another dude who's finally met a woman who makes him want to stop sowing his wild oats. But what it lacks in originality, it makes up for in pleasant tone quality.
7
Luke Bryan, "Light It Up"
Synopsis: Luke Bryan messed up and is waiting for a girl to text him first, even though he could just apologize, which he might've already done, but that bit's unclear. Highly listen-able, though.
8
Maren Morris, "Dear Hate"
THANK GOODNESS FOR MARREN MORRIS. Here's someone who's alluding to politics and race relations (!!!) when some of her (mostly male, still) peers are still singing about dumping nagging girlfriends and beer pong.
9
Sam Hunt, "Body Like a Back Road"
Because curves, get it? But A for body positivity.
10
Thomas Rhett, "Unforgettable"
It may reference both mango-ritas and Coldplay, but it's about his wife, so this is sweet and mellow and not as awful as it might seem.