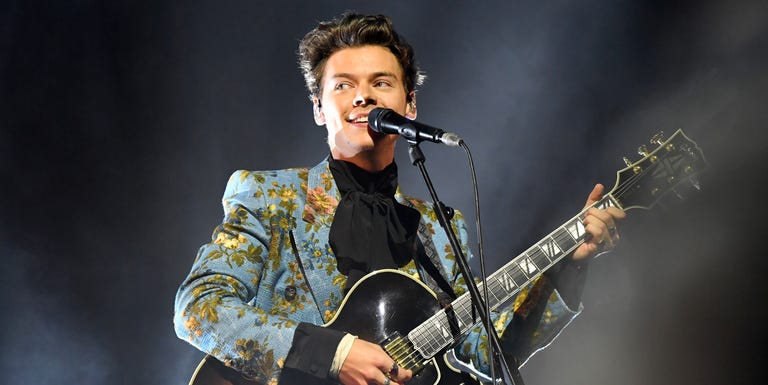 Keep this in mind for your next tequila-fueled turn on the karaoke mic: 'Tis a far better thing to put your own spin on a song than try to imitate the original. Which is precisely what the 12 following artists did as they covered classics old and new.
1
Beck, "Can't Help Falling in Love" (​Elvis Presley)
Shame that I couldn't get through the first episode of Man in the High Castle, because if I had, this heartbreaking cover of the Elvis standard would've been waiting for me on the show's Resistance Radio record.
2
Fickle Friends, "Feels" (Calvin Harris)
Natassja Shiner's articulation on this is so interesting and ::tries to make Italian chef fingers that come out more like crab pincers::
3
HAIM, "That Don't Impress Me Much" (Shania Twain)
To the delight of the Internet, the Haim sisters covered Shania with bass face and wicked guitar licks galore. Also Danielle's solo. This is the content we like to see.
4
Harry Styles, "The Chain" (Fleetwood Mac)
Harry sings. Harry claps. Harry's voice is raw and rough, and we need a whole CD of this.
5
Julia Jacklin, "Someday" (The Strokes)
This is a lot of people's favorite (only known) Strokes song, so quite a risk tackling it. But the Australian singer-songwriter nails it with a whispery, slowed-down take.
6
Lyla Foy, "Baby Lee" (Teenage Fan Club)
Oh, this is so beautiful. Makes you want to learn guitar, form a girl band, and just sit in meadows and sing as the birds chirp.
7
Matt Maltese, "Paper Thin Hotel" (Leonard Cohen)
From the man who made you want to spend your last moments on Earth listening to his music while lying on the floor with your family as a North Korean missile speeds toward America, this gives off a similarly, pleasantly melancholic vibe.
8
Niall Horan, "Issues" (Julia Michaels)
Nobody puts Niall in the corner—not when he changes the time signature and gives "Issues" a country arrangement.
9
Paramore, "Passionfruit" (Drake)
One of the best off Drake's mixtape, reimagined by the people who soundtracked your emo youth. HAYLEY!
10
Sløtface, "Supercut" (Lorde)
Not a song you'd think would suit a punk band, necessarily, but the Norwegian foursome with the naughty name (pronounced "Slutface") deliver nostalgic breakup coziness with aplomb. Plus the Lorde herself liked.
11
Sky Ferreira, "Easy" (The Commodores)
This plays at the end of the Edgar Wright joy ride known as Baby Driver as...some people do some things (no spoilers). But we can say that it's a perfectly sweet, breezy version for a sweet, breezy conclusion.
12
Snakehips and MØ, "Redbone" (Childish Gambino)
Bit of a bumpy start, but she worked it out, and the imperfection is charming. Great vibes all around.