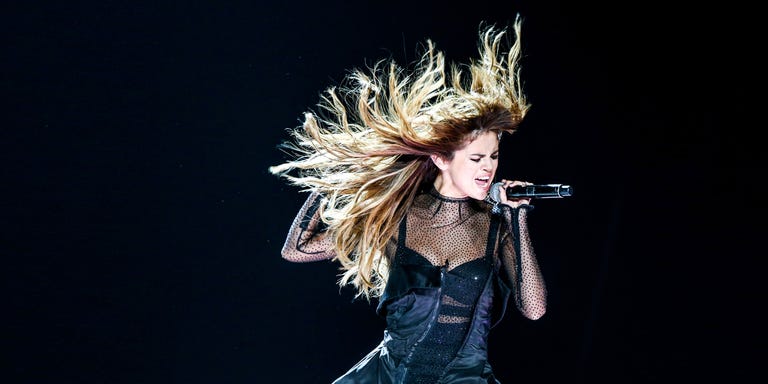 Maybe you don't listen to the radio. Maybe you've been in a coma until the Seinfeld theme song brought you back. Maybe you refuse to give more power to the juggernaut that is the Top 40. Whatever your reasoning—you could also just want to see which bangers we've picked—here, 15 prime examples of the year's best pop music.
1
Bruno Mars, "That's What I Like"
From the indefatigable Mr. Mars comes this starry-eyed playboy bop. Like the man himself, it's just so hard to dislike, no matter how saccharine. Sometimes you just want sugar.
2
Calvin Harris feat. Frank Ocean and Migos, "Slide"
Migos had a year. Calvin Harris' whole business is bangers. And Frank Ocean is Frank Ocean. We'd be surprised if this didn't succeed.
While his mixtape More Life was meant to be a collection of a few of Drake's favorite things, this swingy, island-breezy choon proves that not only does the artist have superb taste, but he's still got the power to churn out a Song of the Summer that works any time of the year.
Maddeningly catchy, but perhaps even more importantly, extremely meme-able, as recently proven by its use as a popular response to the rebirth of Jelena.
Guitar licks. Bass face. This is everything you want in pop-rock.
6
Justin Bieber, "Friends"
Allegedly about—who else—Selena Gomez, I guess it worked? Even without the "he won her back by asking about her mom" quotient, this is still an earworm as most Biebs tracks are, a fact that you just have to embrace. Shh, don't fight it.
8
Khalid, "Young Dumb & Broke"
This is all of us (but if we had as much talent as the 19-year-old artist). Even if we are known as the generation that was obsessed with dying and memes, at least they'll have this song to remember us by.
Makes you want to put on a sparkly blazer and strut around to this Talking Heads-tinged offering. USDA certified LEAN.
Like an IMAX movie panning over a sweeping vista, this is epic and lush and sets off LDR's voice magnificently.
Get it out of my head. (But actually, do yourself a favor and listen to the Chromeo remix of this too.)
12
MUNA, "I Know a Place"
You might've heard that they're touring with Harry Styles (if you've heard of them at all), but this is a great entry point to a very interesting queer girl band that sings about LGBTQ rights and feminism. This is what pop can be. AND IT'S SO CATCHY.
13
Sigrid, "Don't Kill My Vibe"
More girl power from another young female artist who kicks ass and takes names in this pump-up jam.
14
Selena Gomez, "Bad Liar"
Sassy, self-assured, and super stylish, this is the Selena Gomez 2017 doesn't deserve. But thank goodness anyway.
15
The Weeknd feat. Daft Punk, "I Feel It Coming"
That disco-funk made a pair of French robots will get you every time.