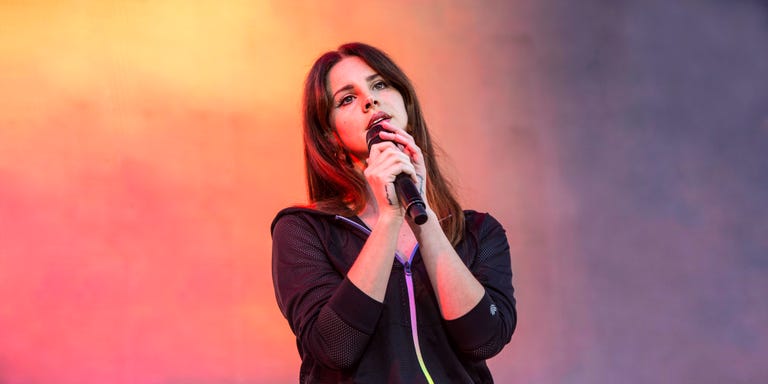 Yeah, everything kind of sucks right now, but it won't always. So before we come to the true brink of destruction, why not take the opportunity to soak in the ambience with some mood music? Here, 15 sad songs to listen to as you stare plaintively out a bus/car/train window.
Someone put this in the good kind of teen movie already, probably in a scene in which the heroine drives around pondering the "what are we?" relationship question. (I hear this continues well into your 30s, so this sort of good guitar music could work for that too, if Hollywood ever decides to acknowledge women of that age.)
2
Declan McKenna, "Why Do You Feel So Down?"
Don't be fooled by the cheery morning-aerobics video concept—the introspective lyrics put a happy face on such universal struggles as trying to be cool and feeling like you're constantly messing up.
3
Flume feat. Kai, "Never Be Like You"
Electro-pop can be sad, especially when the lyrics are straightforward enough to be like "Hey, the narrator (you) did something wrong to warrant the ending of a relationship, and now he/she (you) should feel regret about it."
4
Frank Ocean, "Bad Religion"
"It's a bad religion to be in love with someone who could never love you." One really feels for Frank as he sings about struggling with his sexuality, though the sense of impossibility runs much deeper than that.
Let's put it this way: When this comes up on shuffle, better remove yourself from any group situations, lest you frighten anyone with a sudden emotional outburst. And how could you not with this epic, chest-cavity-filling track about watching helplessly as someone deals with overwhelming heartache?
6
Julien Baker, "Appointments"
So beautiful, so emotional you'll find yourself welling up (at the very least). It's Julien Baker, after all.
Kelela x Arca = gushing feels about—you guessed it—the end of a relationship. But more interestingly, you get to perhaps the most uncomfortable part of that well-worn subject, which is the "how did it get that way" bit, as she explained to the Fader.
And another breakup song, with a strong '80s influence and the fascinating ability to tear you down and build you back up.
9
Lana Del Rey, "Is This Happiness"
When'd you get so dark, LDR? With lyrics like "One gun on the table/Headshot if you're able," this is a morbidly pretty ballad that perhaps should've made the cut on Ultraviolence.
10
Laura Marling, "Blackberry Stone"
"I'd be sad that I never held your hand as you were lowered, but I'd/Understand that I'd never let it go." Cuts to the quick, this song, but you'll enjoy it as you bleed out.

11
Mac DeMarco, "Without Me"
Even sadder acoustic, which is why we've included this version, featuring ol' Mac strumming his guitar while sitting on a tree stump in the woods.
12
Mating Ritual feat. Lizzy Land, "Cold"
Can a song make you feel shivery? Even though this track is outwardly a love song, you still get hints of past regrets, which, coupled with a massive hook, make for prime wrapped-up-in-a-blanket-burrito-on-the-floor material.
13
Phoenix, "If I Ever Feel Better"
The definition of "why am I crying in the club?"
14
Radiohead, "How to Disappear Completely"
A song about so melancholy you feel like you're an astronaut who's become untethered from the space station. Line that'll most likely make you say "same": "I'm not here/this isn't happening."
Romy Madley Croft really goes for the jugular here with no-holds-barred emotion in her vocals. Doesn't hurt (slash help) that the subject matter is, once again, a relationship that didn't work out.