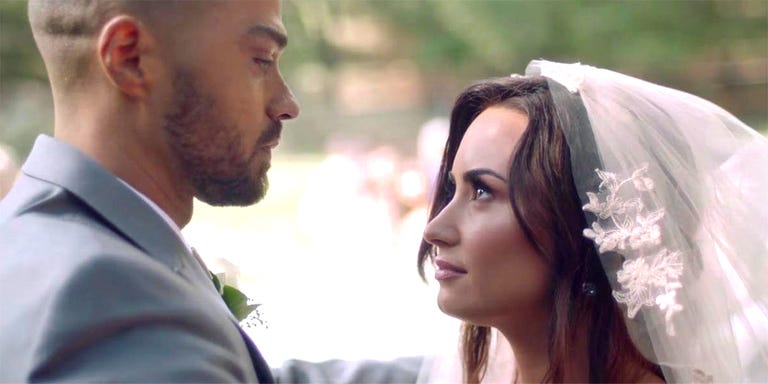 At a wedding, the main reasons you would want people to cry are 1) from Stendhal syndrome, having seen you in your dress; 2) from laughter; or 3) because they all want to marry you but were too chicken to pipe up, even during the "forever hold your peace" part. It should not be because the music was deeply awful. That's why, ahead, we've compiled a mini mix of appropriate love-y songs for first dances, slow dances, group dances, etc., but not such much so that they'd make you puke.
Most romantic line: "I'm a high school lover / And you're my favorite flavor / Love is all, all my soul / You're my playground love."
Best for: If you and your person really did meet in preschool, like this Internet-famous couple did. But also good if you didn't spring for dance lessons and want a really slow jam to compensate.
2
The Beach Boys, "God Only Knows"
Most romantic line: "If you should ever leave me / Though life would still go on, believe me / The world could show nothing to me / So what good would livin' do me / God only knows what I'd be without you."
Best for: Remembering how love saved Brian Wilson's life and sobbing about that for a minute instead of your wedding.

Most romantic line: "Hit me like a ray of sun / Burning through my darkest night / You're the only one that I want / Think I'm addicted to your light."
Best for: All audiences, who will then be satisfied that "Single Ladies" will also be played during this shebang.

4
Cyndi Lauper, "Time After Time"
Most romantic line: "If you're lost you can look and you will find me / Time after time / If you fall I will catch you, I'll be waiting / Time after time."
Best for: Splashing Champagne as you shout.

5
Earth, Wind & Fire, "September"
Most romantic line: "My thoughts are with you / Holding hands with your heart to see you / Only blue talk and love / Remember how we knew love was here to stay"
Best for: Shoving everyone out the way so you can cut shapes on the dance floor in your third dress of the day.

6
Elvis, "Can't Help Falling in Love"
Most romantic line: "Take my hand, take my whole life too / For I can't help falling in love with you."
Best for: Thinking about holiday commercials. Crying about holiday commercials.

7
French Montana, "Unforgettable"
Most romantic line: Uh..."And you are unforgettable / I need to get you alone/ Now you wanna chose/ Just popped bubbly in the 'cuzi?"
Best for: Either your first dance (Harley Viera-Newton did it) or at 3 a.m., there is no middle ground.

Most romantic line: "If didn't ride blade on curb, would you still (love me) / If I made up my mind at work would you still (love me) / Keep it a hundred, I'd rather you trust me than to (love me) / Keep it a whole one hund', don't got you I got nothing."
Best for: Shuffling around in a small circle while hugging.
9
Mac DeMarco, "Ode to Viceroy"
Most romantic line: "And oh, don't let me see you crying / 'Cause oh, honey, I'll smoke you 'til I'm dying."
Best for: Not former smokers.
Most romantic line: "When you touch me in that way, I just don't know what to do, love / I'm so in love."
Best for: As we've put it before, wondering why "your [husband or wife or whatever] isn't a musical savant who got the dude from Gorillaz and Blur to sing to you personally."

11
Nick Mulvey, "Unconditional"
Most romantic line: "It was right here all along / What you're missing was never gone / How did we do this, we're here / Hold me close and hold me near."
Best for: Making sure your parents never leave.

12
Phoebe Bridgers, "Killer"
Most romantic line: "But when I'm sick and tired / When my mind is barely there/ When a machine keeps me alive / And I'm losing all my hair / I hope you kiss my rotten head / And pull the plug/ Know that I've burned every playlist/And given all my love."
Best for: Diluting your very expensive makeup application with saline water.

13
Rick Astley, "Never Gonna Give You Up"
Most romantic line: "Never gonna give you up / Never gonna let you down / Never gonna run around and desert you / Never gonna make you cry / Never gonna say goodbye / Never gonna tell a lie and hurt you."
Best for: I don't think this counts as me rickrolling you, but it probably does for your guests, not that they'd mind. (Especially not if this comes on later on when everybody's well-lubricated. Hilarious.)
14
Roxy Music, "If There Is Something"
Most romantic line: "I would do anything for you / I would climb mountains / I would swim all the oceans blue / I would walk a thousand miles."
Best for: Surprising people who are like "WTF" during the first minute, then "Ooooh" for the rest.

15
Stevie Wonder, "You and I"
Most romantic line: "Well, in my mind, we can conquer the world / in love you and I, you and I, you and I."
Best for: Channeling the freaking Obamas, who danced to this at their own wedding!!!!!!!!!