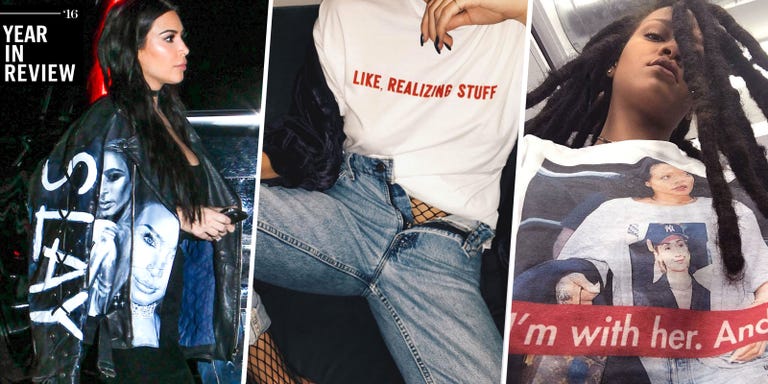 Do you love yourself a meta moment? Cool, so does 2016. In fact, this year was full of self-awareness and fourth wall breakage that we rounded up a list of our favorite meta moments for you to enjoy over a nice yule log. Happy holidays!
1
When Kim Kardashian Wore Her Own Face
Meta vibes = strong. Also, in case anyone is in the market for one of these, it's made by New Zealand artist Clara Chon and her label Blue Blank.
2
Oh, and When She Got a Kimoji Manicure
Because why not decorate your fingers with tiny animations of...your fingers?
3
Literally Everything About 'Deadpool'
Deadpool is basically 108 minutes of meta realness. It's so meta that even it's meta moments are meta. Think of it as a meta double cheeseburger, each layer more delicious than the next.
4
When Oreo Debuted a Cookies & Creme Flavor
Which is, to be clear, already the flavor of Oreos.
5
When 'Ghostbusters' Trolled Its Trolls
Remember when everyone on YouTube aggressively trolled Ghostbusters' first trailer? (BTW, "everyone" = straight white males.) The movie responded perfectly, by having its leading ladies read the comments section of their own ghost hunting video and come across the following gem: "Ain't no bitches gonna hunt no ghosts."
6
When Winona Ryder Was Cast in 'Stranger Things'
Stranger Things is a self-described "love letter to the '80s classics," and it doesn't get more '80s than Winona Ryder. Her casting is by far the series' most meta moment.
7
When Rae Sremmurd Did the #MannequinChallenge
To "Black Beatles," naturally.
8
Oh, and Then Paul McCartney Joined In
9
When Rihanna Wore a Shirt of Herself Wearing a Shirt
10
When Rory Gilmore Wrote 'The Gilmore Girls'
As Lorelai notes, Gilmore Girls is cleaner. And it's also more meta.
11
When Jessica Simpson Referenced "Chicken of the Sea"
Perhaps the single greatest moment of 2016.
12
When Kylie Jenner LOL'd at Herself
Remember the time Kylie profoundly mused that 2016 would be the year of "like, realizing stuff." Now she's wearing it on a shirt.
13
When the Creator of 'Full House' Bought the IRL House
Truly living the meta dream.