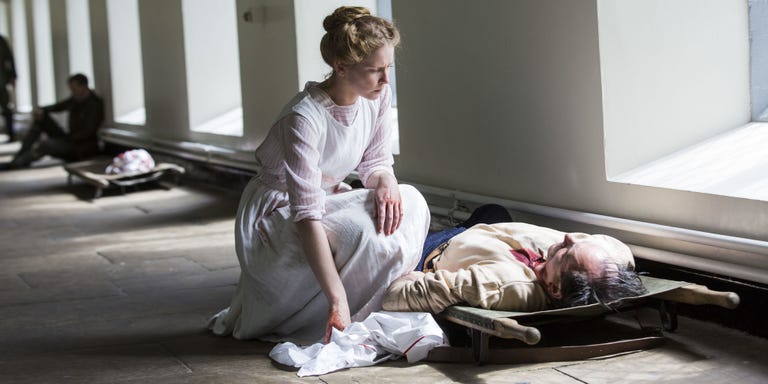 Could just be me (please don't say yes), but there is no satiating my need for British period shows with drama and vengeful maids and social hierarchies and accents. If you're all 🙋🏻 , here's how to get your next fix...just with different accents.
Available on: Netflix
Three generations of women all become widows after getting married and only give birth to daughters—is it a curse? The Mexican show tackles gender equality with creative plot twists and amazing chemistry.
2
'Empresses in the Palace'
Available on: Netflix
This Chinese period drama ran in 2012 and stars Sun Li as the newest wife of the emperor. As such, she has to deal with manipulation, treachery, and secrets, all while dealing with her growing love for another man.
Available on: Netflix
Based around true historical events, this Irish period drama is set in World War I, where three women and their families have to choose sides during the Easter Rising to establish an independent Irish republic from Britain.
Available on: Hulu
The Grand Hotel holds a lot of secrets—mostly by Julio, who poses as a waiter to try and find out what happened to his sister, who disappears while working at the hotel. While trying to solve the mystery, Julio falls for the wealthy hotel owner, Alicia, who might be the key to finding out what happened to his hermana.
Available on: Netflix
The Time in Between AKA El Tiempo Entre Costuras is a Spanish period drama based on the bestselling novels. In 1934, a young seamstress from Madrid leaves for Morocco with lover as the Spanish Civil War begins and becomes a spy for the allies.
Available on: Netflix
La Esclava Blanca (AKA The White Slave) is a Colombian telenovela that has historical background in Colombia's slave trade. Essentially, after a slave almost buys his way to freedom (along with his wife and daughter), his master's home is burned down and the master and his wife perish—their baby Victoria, however, is saved by the slave's wife and is raised in secret by the family. Later, they're found out—and Victoria is sent away, while the family is sold back into slavery. The story picks up when Victoria impersonates a marquise and comes back from Europe—all with the intent to find her family, seek justice, and set them free.