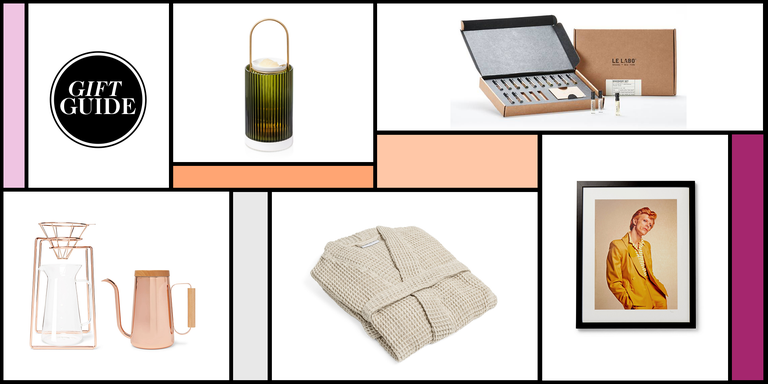 Courtesy, design by Travis McHenry
Once you and another person have established that you are an item, your friends can breathe a sight of relief, having whittled down their holiday lists by one. Because you're a BOGO deal now, you see? But it's not that bad when couples' gifts like the 12 ahead are on the table, plus everybody knows the worst deal of all is still when your birthday falls on or near Jesus'.
Bowie—in 1974, by Terry O'Neill—watches over your home.
Sonic Editions, $500
A discovery kit for layering, mixing up your signature scent as a duo, and making sure neither of you smells purely of Santal 33.
Le Labo, $80
If you're of the experiences > things mindset, give them a private helicopter tour or a glass-blowing class—pricing is per person, so maybe they won't mind you tagging along.
IfOnly, price varies
Where to eat in Paris, where to stay in London, and all the best (romantic) things to see and do in various cities in between.
Luxe City Guides, $90
Laid-back recipes for partner cooking from one half of a food-world power couple.
Downtime by Nadine Levy Redzepi, $23
Luxe waffle-knit robes that are like the couple's massage bit of a rom-com but without the gags.
Parachute Home, $119
Should these couple friends of yours be more of the "duo that has have everything" caliber, how about some Broadway-referencing cocktail napkins? Chic.
Julia B. Couture Linens, $325
Similarly chic is this warmer that heats scented wax molded into cameos. Would consider growing up just to own this.
Cire Trudon, $275
Yes, they are labeled "Mr." and "Mrs.," but a Sharpie could fix that in a jiffy.
Slip, $98
These shiny apparatuses make coffee, a cost-saving measure in the long run. Plus they're pretty.
Toast Living, $300
You signed up for this.
Sun Bicycle, $750