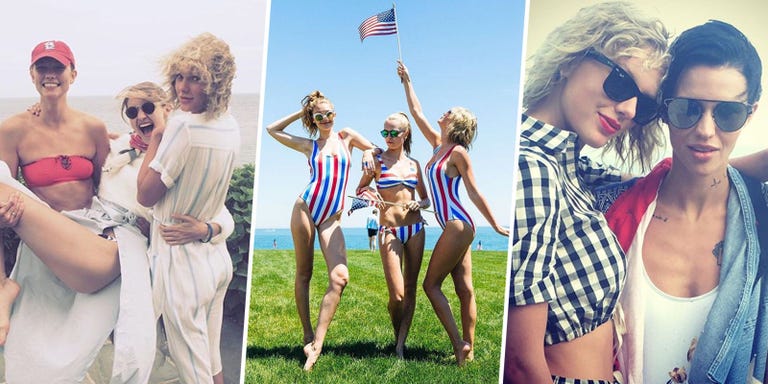 We already know Taylor Swift can throw a party/shape the narrative of her love life like no one's business, but over the July 4 weekend, she outdid herself by accomplishing something she's never attempted before: group themed outfits. For those who would like to follow suit or if you just thought her gingham bloomers were really cute, we tracked everything down with links to buy.
Taylor Swift in a Bikini with "America" Written on It
As expected, 'tis sold out. But you can still buy the bottoms!
Forever 21 Low-Rise Bikini Bottoms, $13, forever21.com.
You Get a Swimsuit! And You Get a Swimsuit!
Gigi Hadid in Pointy Sunglasses
Gigi Hadid in a Backless Sweater from a Brand That Hadn't Even Launched Yet
Ahead of the curve as always, Gigi Hadid wore a tie-back knit from hot hot hot new brand Majorelle.
Majorelle sweater, $168, revolve.com.
Hiddleswift in Coordinating Slippers
::sotto voce:: "They could definitely do a custom 'Mr. and Mrs. Swift' job for the wedding."
Soludos Classic Smoking Slipper, $55, soludos.com; Soludos Men's Seersucker Original Slipper, $55, soludos.com.
Taylor Swift in On-Theme Sandals (Naturally)
Taylor Swift in a Custom Denim Jacket
"How much trouble can I get into within 10 characters?" —a question we should all be asking ourselves right now
Rails Personalized Denim Jacket, $275, railsclothing.com.
Taylor Swift in Classic Shortalls
When it comes to swimsuit coverup ideas, trade in your jean jacket for an all-in-one denim onesie.
Cotton On Shortalls $25, cottonon.com.
Taylor Swift in Gingham Co-Ords