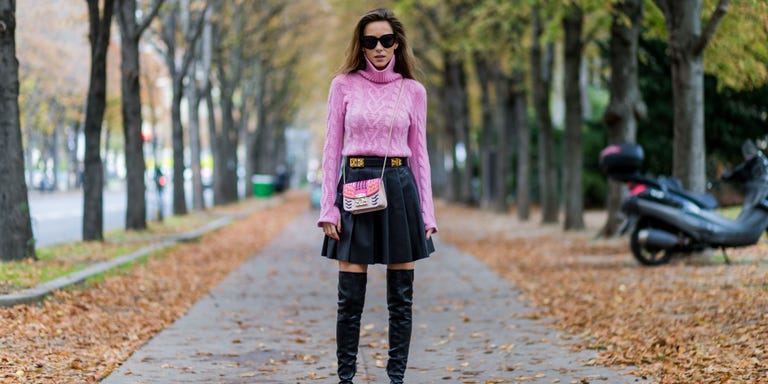 One ought to put health before vanity, but at the same time, like, no—this is my outfit. For those who dare defy the weather/those proverbial old wives tales, here, we present the four rules of going bare-legged until January. And then some. [auctioneer voice] (Marie Claire does not accept responsibility for any amputations.)
This goes without saying, but so did that bit about losing limbs, so here it is: You would be better off relinquishing the idea of wearing a mini without a denier count of at least 90. The most elegant solution, therefore, is to 1) put on more fabric to limit your skin's exposure to the elements (groundbreaking, I know), and 2) keep warm by layering your upper half like a hapless flier whose carry-on weighs 72 pounds so he has to unpack and wear, like, seven shirts at once because he prefers to stick it to the airlines by not paying the baggage fee.
Case in point: Chloë Sevigny, who's got on a shirt and a jumper and a coat (note how it's longer than the skirt). Also important: Alternative Hosiery Options, such as knee socks, thigh-highs, and fishnets, which, despite being tights, do absolutely nothing tight-like in the frostbite-prevention department.
Over-the-knee-boots AKA savior of Girls Who Go Out everywhere. Here, Hailey Baldwin contradicts the judgmental-lady peanut gallery—WEREN'T YOU YOUNG ONCE TOO, BARBARA—with a short hemline (and long coat). Who's going to catch her death NOW, Maude, huh??
Finally, semi-cheat-ily, here is the final way to avoid strangling your limbs with nylon: pants, which are like tights that haven't yet developed the instinct to constrict. Actually not a bad way to think of it, should you be fearful of looking like you stumbled and fell into the pile of clothes you keep moving back and forth from your bed to a chair. As seen on Leandra Medine, denim on denim on denim always goes down a treat, as do similar colors and fabrics.