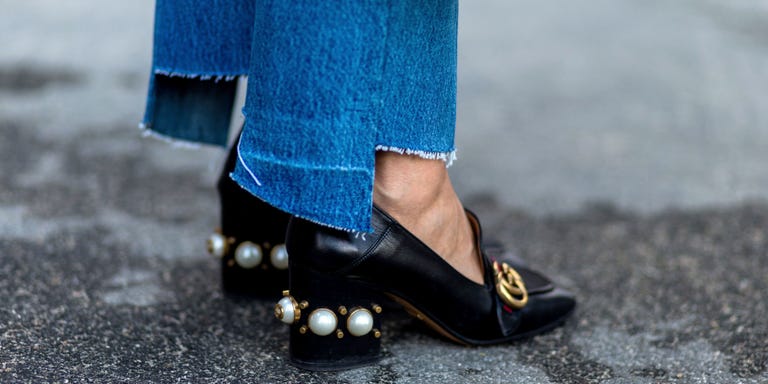 Seems like a one-or-the-other kind of thing, but can you have two Golden Ages going on at once? Because in that case, we might like to recall what we said about eye makeup (SORRY) and declare, instead, that we are in l'Age d'Or of Interesting Denim. Just look at all you can do with a pair of scissors and some imagination! Here, five designer-inspired DIYs to attempt on your days off (HAHA).
Take a pair of jeans you don't really love—ones you're actually into are just too precious to f*ck up, which is a real possibility when you're cutting them. Next, trace along the pockets and belt loops with marker if you're cautious, and with scissors if you're not. Neater is better in this case, but we could see it being very cool in a punk way if your cat happens to bat at your hand while you're sawing away.
Conversely, you could also add inches 73–75 of said ASOS jeans to the bottoms of the pants you'd wear in a flood, which have been rolled up to make them even shorter.
You know you've wanted hems like this, so just open up a Google Images search and do it already.
You will need: one pair of throwaway jeans, another pair of less throwaway jeans, some sort of adhesive, and a bit of gumption. Chop the inferior pants right above where the zipper begins. Attach to the inside of the superior pants. Wear two belts at once to throw people off.