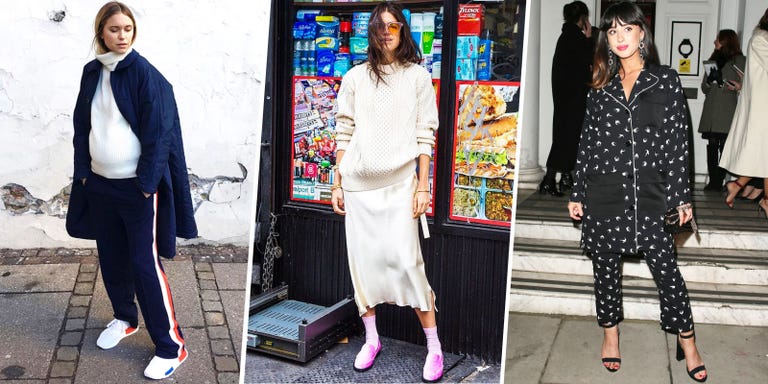 On the internet, people are obsessed with "hygge," which is Danish for "feeling cozy and like you're amongst friends in an Saks Potts-pretty way because otherwise, how would you last the Scandinavian winter?" Americans have this too, but ours involves overeating, then feeling bad about it, then doing it all over again. Traditions! Here, seven outfits to wear after you neglect our advice about pants.
That is a pregnancy belly, but there is really no difference in appearance, which is why this outfit of track pants, turtleneck, and long coat works just as well for concealing dinnertime wantonness. Styling note: The hair tuck is still going strong, and you might want to deploy it here to show the world there is a human woman's head above all that billowing wool.
If your unwelcome visitor has dissipated a bit, swap out the bottoms for proper trousers and heels, leaving your jumper loose because, HAHA, like there's any room in that waistband? (Though if there is, you are free to shove a quarter to a half of your shirtfront in there.)
For evening, keep the fluffy knit, and zip yourself into a full skirt. Or just far enough to ensure it stays on—no one can tell anyway, yeah?? Hair up and big earrings to create a long line with the neck, trainers so you're slightly more motivated to exercise than you would be in pumps. Or horizontal on your couch.
Variation with a loose slip dress layered underneath if you are in no condition to struggle with zippers. (Been there, friend.) Further mislead them (and yourself—it's all psychology) with shock-and-awe accessories that distract from your body, which is in NO WAY bloated like that of a drowning victim they find on SVU, no matter what you're thinking.
And now, a nighttime pants option that consists of a stomach- and bum-obscuring jacket and trousers cropped above the ankle bone, because you've still got a talus, you know? Pajama co-ords: the new suit.
Now back to real life, in which you can wear a millennial pink hoodie or pretty much anything/nothing at all, anytime, anywhere, as long as you've got a good coat and dangly jewelry hanging from your lobes. Seriously.