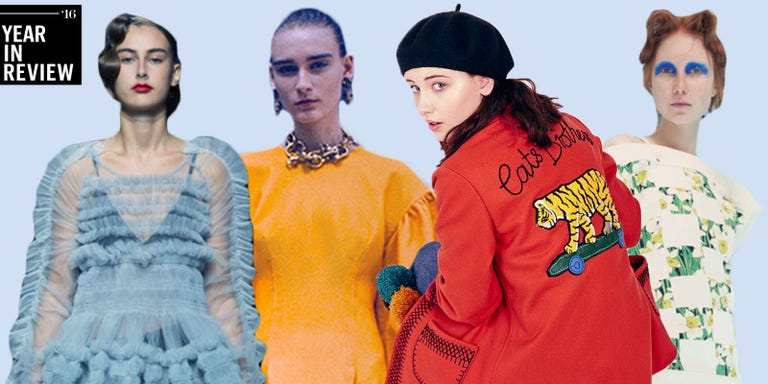 The general standards for 2017 have been set remarkably low, but it is when we reach our lowest point that we are open to the greatest change. (Please let this quote from a children's television program be true.) In other words, not everything's gone to sh*t—take the fashion industry/your style game, which is going to be propelled to new heights next year by these 10 brands. We'll be following closely.
If I could own any look from 2016, it would 100 percent be this MA look, built for party girls and baked potatoes alike. That is our shared aesthetic, which is sporty and frilly, hard and soft, and ugly and pretty—all, contradictorily, at the same time. Just like a modern woman.
Speaking of frills, nobody does steel-backboned femininity better than Molly Goddard. Agyness Deyn got married in one of her confections! Which also look ace over jeans! Rihanna! With such a crowd-pleaser, she could quit now and stay ahead, but we can't wait to see how this fairy tale evolves.
I have been afraid to close this tab for months because I don't want to forget about this British brand that makes the clothes you wish you'd come across thrifting but cleverer and cooler. (Not that I could, ever.) "I WILL make you mine," she said to the Rude Boy sweatshirt Ellie Goulding wore recently.
The above dress ruled Fashion Week. Pyo's other dresses—vibe: Phoebe Philo's dreamier, younger sister—will own other Fashion Weeks/the world to come.
The Seoul-based designers modish boots and loafers speak for themselves, even if you can't read a lick of Korean. With the right next steps, Reike Nen could be the next Carel.
Jewelry as sculpture, or why I can't stop getting piercings (so that I might one day exclusively wear this Swedish designer's work, duh).
How many things can you do with "workwear for men?" The limit does not exist with this Central Saint Martins grad, who's doing exciting things with boilersuits and tablecloth-looking fabrics—for women too.
Ear decoration isn't limited to just hoops and studs anymore, especially not with these circular baubles (like miniature Ferris wheels!) from Kim Mee Hye's Antwerp atelier. There's nothing else like them, which is what makes them so good.
Wild card! Raf Simon's arrival probably won't mean the end of that underwear nonsense because 💸 , but it will certainly mean something for New York Fashion Week.