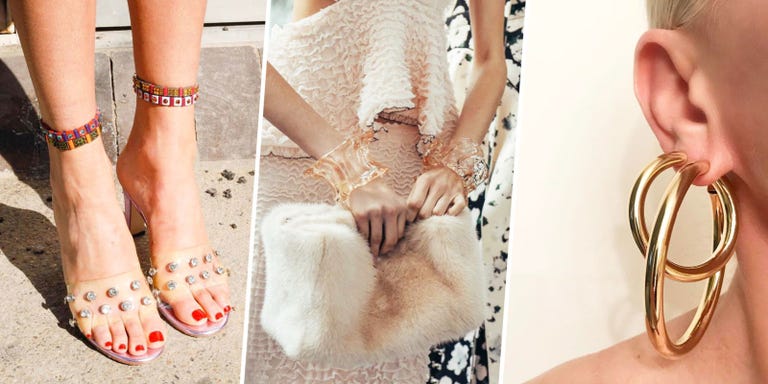 Celebrity deaths come in threes, while it takes two to make a thing go right. Secret criminal organizations versus tangos and tea. Get the picture? While we might've just become the first people to be charged with discrimination against a number in the name of making a point, when it comes to jewelry, two > three...so far. Here, see why doubling up on your hoops, cuffs, and anklets (whaaaa??) is the chicest styling trick of the moment.
Ever since Gaia Repossi presented her diamond hoops in a pair, with the second high up, we've been obsessed with this deceptively simple yet effective variation on the double lobe. (Some of us even got pierced this way.)
But if you've got the more common, closely spaced version? Great—make the most of it with earrings of equal statement-making power. No more playing second, uh, hole with wimpy studs.
BUY IT: Jennifer Fisher, $650; jenniferfisher.com.
Wearing a cuff on each wrist: As classic as Chanel and Vreeland and ordering *two* scoops on your waffle cone. But maybe it's another sign of the Wonder Woman effect?
SHOP SIMILAR: Uterque, $675; 1stdibs.com.
Would say fur pouf optional, but it's not, really. UNLESS YOU CARRY ONE ON EACH ARM. 
SHOP SIMILAR: Color Temperature, $880; fivestoryny.com.
Wildcard! While even the idea of a *single* anklet might be a bit tough to wrap your head around, fashion has gone 200 percent and upped the ante to one per leg. The cool thing about these dreamy shoes is that they're sold with the jewelry included, so you don't have to go looking for chains of the exact right length. BLESS UP.