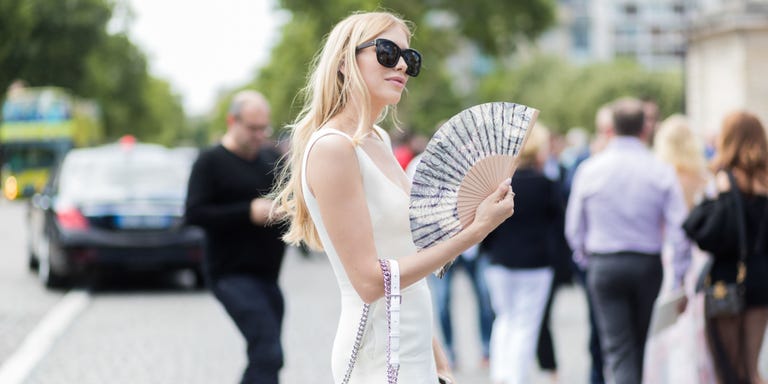 Let there be more fans. Not the selfie-taking, barrier-upending kind, but the breeze-making, ha-I'm-from-another-century kind. It's one more thing to wedge into your straw basket, sure, but well worth the two seconds of trouble when your train gets stuck underground and the AC malfunctions. Other pros: that satisfying THWAP sound, can function as an instrument of seduction. See seven inspiration photos below.
Or you could no-bag it for the breeziest summer outfit of all. In complementary pastels, an accordion fan to wave lazily in front of your face/smack other people in their faces if they're rude is the only accoutrement you need.
BUY IT: Fern Fans, $77, fernfans.com.
Really nice in brighter tones too.
At the Dior Haute Couture show, guests were gifted branded versions of the OG air-conditioners. Here's Kirsten Dunst with hers, looking chic.
Chiara Ferragni probably doesn't sweat, but yes.
Then, according to the tao of Céline Dion (short version: be as extra as you want), she got up and did a fan dance. (Not really, but would've been on-brand.)
Bianca Jagger and Alber Elbaz, two faves in one frame. Also, pretty sure Alber brought his own fan.

SHOP SIMILAR: Gucci, $450; net-a-porter.com.
The summer's second most crucial accessory: wine.