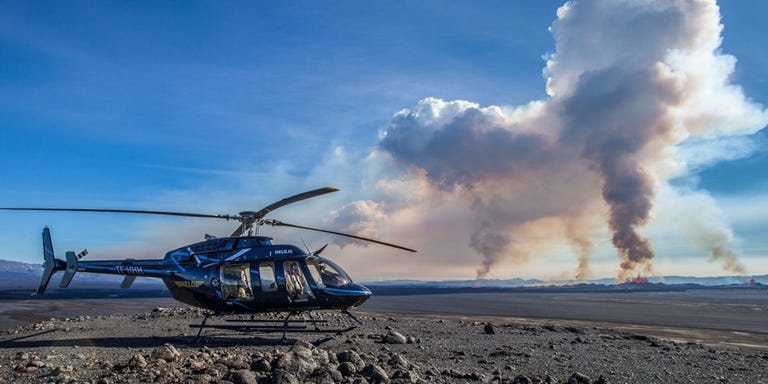 If we've learned anything over the past few years—in this wild world of tiny homes and nomadic lifestyles—it's that people are more likely to spend money on experiences rather than things. Which is why so many companies and brands are tailoring some that will honestly blow your mind—for the right price. Here, a look at some of the most over-the-top, absolutely incredible experiences money can buy. *Checks bank account, cries*
1
A Helicopter Ride in Iceland to Have Dinner in a Volcano
Yes, truly. Jacada Travel, the luxury tour operator, offers extremely customizable helicopter tours through Iceland that lets you eat in the Thrihnukagigur volcano's magma chamber. (Don't worry, the volcano is dormant.) You can also have dinner atop a glacier, if hot magma ain't your thing. FWIW, they also offer other crazy experiences, like seeing an opera performance in a volcano and dining under the statue of David in Florence. Casual.
Prices start at $14,280 (including hotel stays), jacadatravel.com
2
A $2,000 Sensory Dinner in Ibiza
At Sublimotion (located in the Hard Rock Hotel in Ibiza), two-Michelin star chef Paco Roncero whips up culinary delights to coincide with theatrical elements that play off your senses to create a crazy, unique dining experience. Did we mention there's 20 courses?
$2015/diner, sublimotionibiza.com
3
Your Own Private Island in Fiji
Laucala Island is a private island encompassing 12 square kilometers (about 8 square miles), with a resort that sits on the northern coast (with tropical wildlife surrounding). You can now rent out the *entire* thing (if having just one of the 24 tropical villas to call home isn't quite enough) for $150,000 a night, with a minimum of 5 nights. The island can accommodate 72 people and all meals and drinks (including booze) are included at the island's five restaurants and bars, and–perhaps obviously—all menus can be tailored to your request.
$150,000 a night (5-night minimum), laucala.com
4
An $80,000-a-Night Luxury Suite in Geneva
The Royal Penthouse Suite at the Hotel President Wilson is a 12-bedroom and 12-bathroom suite with views of the Alps, a grand piano, a fitness room, a private guard room, bulletproof windows, a wraparound terrace, and a private elevator. It's also the most expensive hotel room in the *entire* world. The suite also comes with a private staff of a butler, chef, and personal assistant. You know, in case you don't already have those.
Starting at $80k, hotelpresidentwilson.com
5
A Suite in the Sky (and the Most Expensive Flight in the World)
Up until recently, Singapore Airlines offered the highest luxury class of flying available. Named Suites Class, this level of flying gets you everything from private boarding to a private lounge to a full bed (basically your own room). It's...extravagant. And $18,400 it's definitely a pretty penny...but now, there's some competition. Enter: Etihad Airways' The Residence, complete with a bedroom, living room, in-suite shower room (plus private butler), and tons of other high-end perks—all for a cool $32,000.
$32,000, etihad.com