The Art of Italian Fragrance-Making, From Start to Finish
It takes a special kind of nose.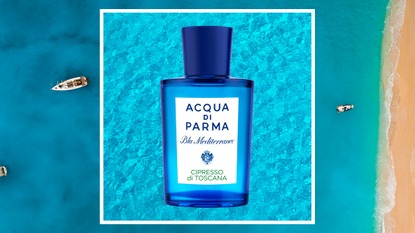 (Image credit: Design By Morgan McMullen)
When a whiff of a chic Italian woman makes you do a double-take, you figure out what scent she's wearing. Chances are it's Acqua Di Parma. The luxury line of Italian-crafted fragrances is a household name in Italy worth learning about in America. With roots that date back more than a century, its signature scents evoke the rich heritage of the peninsula.
To figure out what's kept the brand vibrant for so many years, I spoke with Paola Paganini, Acqua di Parma's director of product development and innovation, who took me inside the world of Italian fragrance-making, specifically, their latest scent, Cipresso di Toscana.
It takes a very skilled nose to conceptualize and create a fragrance from start to finish. "From the selection of a specific ingredient you want to build the fragrance around to the first meeting with the nose, everything is pure emotion of passion and dedication," says Paganini. "The most interesting part is briefing the nose about the fragrance you want to create, asking yourself, What images, words, colors, and sensations do you want to convey through this fragrance?" Sometimes, the job of a perfumist isn't difficult and the scent is almost perfect after the first blend—it just needs some retouches. But according to Paganini, the process usually looks like repeatedly scraping everything and starting from scratch until you reach perfection. "To create the perfect scent, you have to grow it slowly so that it can develop a soul," she explains.
Their Inspiration Was the Tuscan Countryside
The Italian Cypress tree of Tuscany, with its slender shape and aromatic, balsamic, energy-giving scent, reigns supreme in this new perfume. "We created Cipresso di Toscana thinking about rolling hills bathed in sunlight, woods and farms, and pretty villages scattered among the hilltops," Paganini explains. "I believe Cipresso di Toscana is a fragrance that remembers moments filled with light—when everything seems possible—and inspires a feeling of regeneration and of energy. Its balsamic scent, resinous and woody, inspires the same strength and energy of a walk through Tuscan hills."
They Didn't Rush the Process
The work on Cipresso di Toscana has not been easy. In fact, it took the team almost two years to totally master the difficult cypress note, one with a big personality that can smell a bit dark when blended incorrectly. "Evoking a lively breeze, we opened this Eau de Toilette with refreshing notes of star anise and elemi, illuminated by sparkling notes of orange and petit grain," Paganini says. "This introduced a vivaciousness and an aromatic heart of sage and lavender. Followed by a base made of woody balsamic notes of cypress and pine, which evoke the silence of nature and a gratifying sense of wellbeing."
The Packaging Isn't an After-Thought
The bright blue shade of the Cipresso di Toscana bottle should remind you of the shimmering Mediterranean Sea. Green accents represent the thick foliage that grows on the Cypress tree.
Every Scent Has Something Special Added
"Frutti d'Oro, as we call them, or Golden Fruits, which are Italian citrus like lemon, bergamot, orange, are our signature notes can be found in the top notes of all our fragrances," says Paganini, because they "give luminosity and clarity to the composition."
For more stories like this, including celebrity news, beauty and fashion advice, savvy political commentary, and fascinating features, sign up for the Marie Claire newsletter.
Maya Allen is the former Digital Beauty Editor at MarieClaire.com where she covered makeup, skincare, haircare, wellness, you name it! She has a 15-step skincare routine, owns over 200 red lipsticks, and enjoys testing the latest and greatest in beauty. On most weekends, you can find her at her happy place, which is her makeup vanity. There, she's usually blasting her speakers while singing along to lyrics at the top of her lungs, and making sure her highlighter is on point.