How the Original '90s Supermodels Stay Ageless
Skincare and beauty tips from Cindy Crawford, Naomi Campbell, Claudia Schiffer, and more.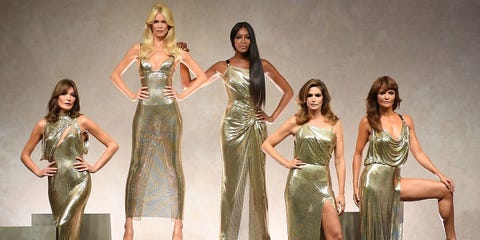 Donatella Versace closed Milan Fashion Week with her spring/summer 2018 show by paying tribute to the late Gianni Versace by reuniting five of the original 90s supermodels. Naomi Campbell, Cindy Crawford, Claudia Schiffer, Carla Bruni, and Helena Christensen all walked hand-in-hand behind Donatella for an incredible finale.
All five are now in their late 40s and early 50s, but have barely aged since their supermodel heyday. So how exactly did they do it? From avoiding certain ingredients to swearing by weird and wonderful beauty treatments, find out how these supermodels maintain their weight and youthful skin below.
This content is created and maintained by a third party, and imported onto this page to help users provide their email addresses. You may be able to find more information about this and similar content at piano.io