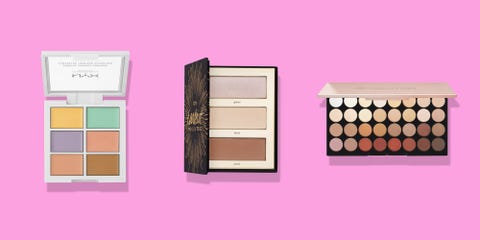 In an ideal world, we'd all have a perfectly decked-out vanity with eyeshadows, bronzers, blushes, and concealers in every customized shade of the rainbow, just waiting for us to slather them on.

But this is the grim, grim real world, and your vanity is most likely just a dirty makeup bag from 2005, while your beauty stash is a hodgepodge of affordable, random, not-at-all-exciting products. And that makes us sad.
So to make both of us happy, we gathered the absolute best, long-lasting, and incredibly pigmented makeup palettes that are not only worthy of a spot in your tiny makeup bag, but affordable, too, so you can promptly buy them all, without crying over your bank account, later.
1
This Highlight and Contour Palette
With just three super-blendable and soft powders, this mirrored palette makes contouring really, really simple: Just blend the contour under your cheekbones and around the edges of your face, sweep the champagne shade over your brow bones and bridge of your nose, and the peach over your cheekbones, and you're good to go.
Tarte Tarteist Pro Glow to Go Highlight & Contour Palette, $23
2
This Insane Eyeshadow Palette
We're pretty sure the reason this palette is called Resurrection is because it's the only thing that can bring you back to life after you see it. Basically, we're dead. 32 matte, shimmery, and pearlescent eyeshadow powders, ranging from violet-hued taupes to terracotta browns, and all incredibly pigmented and long-wearing. Dead. We're dead.
Makeup Revolution Flawless 3 Resurrection Palette, $15
3
This All-in-One Color Corrector
Don't fear the color-corrector; it's actually super simple to use: Yellow and green neutralizes redness, lavender perks up dull, sallow skin (in very fair skin types), and pink (for fair skin), peach (for medium), and orange-y tan (for dark skin) cancels out dark circles.
Nyx Color Correcting Concealer, $12
4
This Lit-From-Within Palette
Unlike some highlighting powders that are infused with all of the leftover glitter from the '70s, this five-powder palette is finely milled and subtly iridescent, so you can sweep them over your cheekbones, forehead, inner eyes, and jawbone, without looking like a Studio 54 reject.
Ulta Strobing Palette, $18
5
This Day-and-Night Eyeshadow Palette
This eyeshadow palette is so truly versatile, we feel guilty having ever called anything else versatile. With four matte shades in cinnamon, peach, beige, and chocolate, plus four glitter-flecked counterparts, this eight-shade shadow palette works for truly any subtle or smoky eye look.
Smashbox Full Exposure Travel Palette Mini, $25