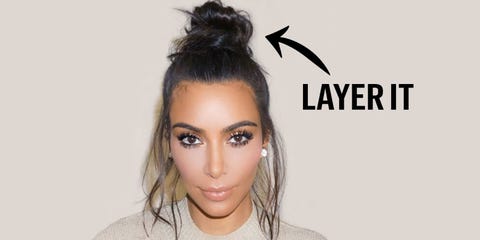 The day we become immune to bad hair days is the day we give up our beloved topknots (read: It's never going to happen). But we've all fallen into a bit of a thrown-up-high-bun rut. Things have gone from model-off-duty deliberate to when is the last time you showered?
In the interest of cleaning up our act, we're stealing the super-easy updates tucked inside these famous topknots below.
Kim's "no-extensions-vibe" top knot is a lesson in why you should *layer* your buns. Hairstylist Justin Marjan created this sky-high style by first splitting the hair into two sections, one from the ear to crown, and the other using the rest of the hair at the nape. She pulled the top section into an ultra-high slick ponytail, then gathered and brushed up the bottom section, adding it to the ponytail with a bungee. It was then that she twisted it into a "messy" top knot.
Having two different sections creates more texture and boosts volume within the knot, thus making it looks less polished in messier, cool-girl fashion.
It's totally normal to be skeptical of clip-in bangs. In fact, it took a full-on test drive to make us believers. So now that there's photographic evidence it's cheap, easy, and totally transforming, we implore you to take a page out of Kendall Jenner's book and invest in a fringe piece for your topknot.
Once you have one that's customized to your color and a face-flattering length, all you have to do is clip them in, zhoosh them up a bit, and then voilà, you've taken your topknot to supermodel heights.
Okay so Skylar Grey's plaited bun from the Grammys isn't exactly revolutionary, but it's a product of the ridiculously-easy pancaking technique that belongs in your topknot regimen.
Just throw your hair into a high ponytail (see our easy, slightly scientific formula here), then braid it. Now it's time to pancake, which means pulling at the edges of plait to flatten it. This will create a larger, more flexible braid that's easier to pin/sculpt à la Skylar. Extra points for edgy, pointy ends sticking out!
Always one to make a statement with her strands, Ciara wouldn't dare settle for a basic bun. At a pre-Grammy gala, Cici threw up her topknot in fuzzy fashion, then used wisps to frame her face for an equal parts romantic and laid-back look.
You can do the exact same thing with your gym bun. Per Man Repeller, all you have to do is use your pinkies to pull out perfectly-sized strands from the area above your ears. Once you have your wisps, give them a bit of texture by wrapping them around a large barrel curling iron, then loosen 'em up with your fingers for an undone feel.