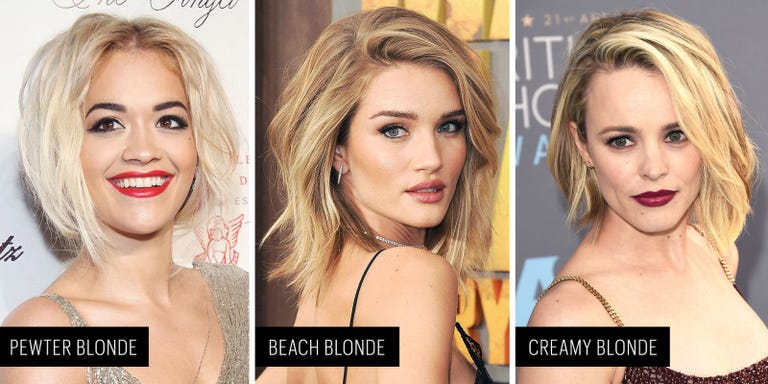 With the warmer months ahead, we've got but one thing on the brain: lightening our strands. Whether you're a ride-or-die blonde or thinking about making the switch for spring/summer, you want to be up on the latest bleach-happy trends. For a proper forecast, we asked Kate Reid, the director of education for COLOR.ME by Kevin Murphy, to forecast the top three shades from the oh-so-vast- blonde spectrum.
This silver-washed platinum skews more rock star than beach babe and there's no denying: it's high maintenance. But it's well worth it if you're going for that edgy statement.
"A peek of root shadow transforms this otherwise pristine platinum canvas to make the eyes pop and toughens up the look," explains Reid. "Not for the wallflower types, this extra bold blonde works particularly well on olive complexions and those with lighter-hued eyes."
Get the look in non-committal fashion à la Kim by throwing on a wig.
If you want a warmer look, insert some golden undertones like J-Law.
If you're looking for something low maintenance, these golden wheat and honey blonde hues work together for a natural-looking, multi-tonal look that suits the beach.
"The key with this look is for the colorist to work with the client's natural colour on the parting," says Reid. "Going lighter around the face allows for an organic texture that won't wind up looking stripe-y or over highlighted. Working a few pieces in a Foilyage technique provides a natural finish and controlled lightening for perfect sun-kissed tones resulting in an overall softer appearance that helps illuminate facial features."
These hues look *especially* beachy on natural curly texture.
Because hair contouring is totally a thing, be sure to ask your colorist for a few face-framing streaks like Gigi's to define your bone structure.
Rose gold and crisp creams team together for this oh-so-smooth blonde, which Reid describes as "not too loud, but more of a whisper" and flattering on all skin tones.
"To up the luxe factor of this dreamy hue, ask your colorist to apply a full head application with natural roots flowing for only a few inches for a seamless-looking blonde that's brighter," she advises. "Be sure the hair is left in perfect, healthy condition because the extra shine will create an expensive-looking result."
The velvety tones add even more dimension to wispy bangs.
This color not only suits every skin tone, but works well on all lengths—especially an asymmetrical chop like ScarJo's.