How I Went from Being Homeless to Making $500,000 a Year
Arian Simone shares how she became one of Hollywood's best-known publicists.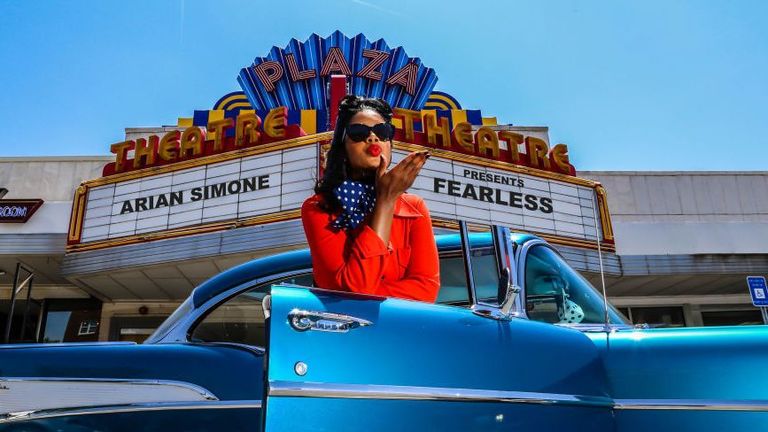 (Image credit: London Carmichael)
Arian Simone, 35, is the woman who went from being homeless to being a Hollywood publicist—who's worked on promoting blockbuster movies starring Robert De Niro, Bradley Cooper, and Will Smith, and rubbed shoulders with everyone from Idris Elba to Whitney Houston. Here are the life hacks that helped her make it big…
How you deal with rejection determines the outcome
I was an A-grade student, who figured if I did what was expected—go to school, get a job, and prove myself—I couldn't fail. But it didn't work out that way. After graduation, I moved from Detroit to L.A. for a job, which I then lost a month later as the company relocated. That was the first time I'd experienced failure and it was a shock. I hit rock bottom. I couldn't pay my rent, I had to sell my belongings to buy petrol or food, and I slept in my car and on couches for a year. But I knew I couldn't give up. I applied for 153 jobs without success, before I stopped counting. But after that, I learned that life rarely happens how you'd expect it to and it's all about how you respond to its hurdles that determines your outcome.
If you don't get hired, create a job
There's always something that someone will pay you to do—you just need to figure out what it is. While I was homeless, a former colleague got in touch with a job offer. His wife had started a furniture company and needed somebody to do the PR. I didn't even know what PR was—but I was thrilled about the opportunity. When I started making phone calls to newspapers and TV stations to promote this new business, I was asked, "Where are you calling from?" and I had to create a company name on the spot. I blurted out "AR PR Marketing"–Arian Reed Public Relations and Marketing. Which is when it hit me: I could, and would, be my own business. From then on, I knew was an entrepreneur.
Think on your feet
After getting my first PR client, I worked day and night. Three weeks in, I was being referred to friends—I soon had five or six clients to take care of. I moved out of my car and slept in the office space I was renting. One night, a man working in the same building found me sleeping on the floor—it was Coach Carter (the inspiration behind the Samuel L. Jackson movie Coach Carter). I knew his film was about to come out, so I grabbed the opportunity to network, just moments after being woken up. I was wearing a baggy T-shirt and sweatpants with holes in them. He said, "No woman should live like this," and explained to me that production companies "outsourced" people to promote movies—I immediately said, "I could do that!" Coach Carter then introduced me to the people at Paramount pictures producing his film, who gave me a small job organizing screenings. It was my first time engaging with a large, billion-dollar company, and although my role wasn't massive, whenever I was around people of influence, I'd network my ass off and built connections.
There's no such thing as a dead end
If someone gives you a "no," you're either asking the wrong question or talking to the wrong person. For me, it's about having the tenacity and determination to keep connecting the dots until a goal is achieved. In 2006, Sony Pictures told me, "We need to get the cast of our new movie, Stomp The Yard on MTV," and I said, "OK, I'll make it happen!" I didn't know a soul at MTV, but filling in the gaps is a skill of mine–I utilized the contacts I already had and made endless phone calls, until I found somebody who could put me in touch with the right people. Unless a person is six feet under, you can figure out a way to meet them.
Mingle from the ground up
The office space I rented when I began working in PR had a radio station on the 19th floor, where Steve Harvey [presenter and Daytime Emmy Award winner] hosted an insanely popular talk show. I befriended the security guards in reception—then they'd hand out my business cards, tell me which celebrities were in the building that day and put in a good word for me. This helped me recruit some my first clients in the entertainment industry and is how, after just a couple of weeks of being in the building, I introduced myself to Nick Cannon [the actor, rapper and comedian, formerly married to Mariah Carey] who told me, "I've heard you're dope! The guys downstairs told me."
Remind yourself what success looks like
During my darker days, I'd keep motivated by driving around Beverly Hills and looking at all the big houses. Seeing other people's success made me grit my teeth and think, Arian, you can do this too. I tried to soak up the energy of people walking around that neighborhood as well—they all seemed so carefree, and I'm a solid believer in what you visualize, you materialize. In a good year, I can make half a million dollars. But I'll still head out to that neighborhood for a slow drive, if I'm in need of a boost.
When you reach the top, remember to look down
There's a saying, "it's lonely at the top," but as Tyrese [Grammy-nominated singer and actor] said, "It's not lonely at the top if you help somebody else get there." People are rarely born into, or find, instant success, so if you've ever been laid off or rejected, then make it big, I believe in helping out the next person. If I meet someone with talent, but I'm not hiring at that time, I'll always refer them to a friend or different opportunity I've heard about. Pay it forward.
Follow Marie Claire on Facebook for the latest celeb news, beauty tips, fascinating reads, livestream video, and more.