Rose McGowan to Caitlyn Jenner: "You Do Not Understand What Being a Woman Is About at All"
The actress penned a scathing open letter to Jenner in response to her being honored as one of Glamour's Women of the Year.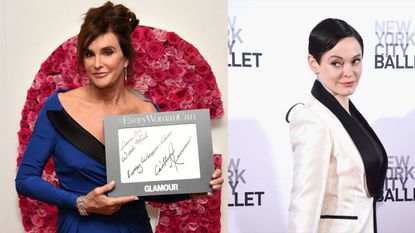 (Image credit: ARCHIVES)
Marie Claire newsletter
Celebrity news, beauty, fashion advice, and fascinating features, delivered straight to your inbox!
Thank you for signing up to . You will receive a verification email shortly.
There was a problem. Please refresh the page and try again.
Caitlyn Jenner was recently one of the recipients of Glamour's annual Women of the Year Awards, (opens in new tab) which celebrates the achievements of female "trailblazers and newsmakers" in a variety of different categories. The decision has already been met with a lot of controversy, most notably from NYC police officer James Smith, who wrote an open letter to Glamour (opens in new tab) saying he was giving back the award that his late wife received for heroic acts on 9/11 because giving the same award to Caitlyn was a "slap in the face" to her memory.
Now, Rose McGowan is also expressing disapproval over Caitlyn's reception of the award in a scathing Facebook post.
"Caitlyn Jenner you do not understand what being a woman is about at
all," she wrote. "You want to be a woman and stand with us — well learn us."
McGowan was responding directly to a comment Caitlyn had made in a BuzzFeed interview (opens in new tab) that took place at the award ceremony Nov. 9, in which Caitlyn said, "The hardest part about being a woman is figuring out what to wear."
"We are more than deciding what to wear," Rose wrote in the post. "We are more than the stereotypes foisted upon us by people like you. You're a woman now? Well fucking learn that we have had a VERY different experience than your life of male privilege. Woman of the year? No, not until you wake up and join the fight. Being a woman comes with a lot of baggage. The weight of unequal history. You'd do well to learn it. You'd do well to wake up. Woman of the year? Not by along fucking shot."
Rose later amended the post with the following: "I'm happy for what she's doing visibility wise for the trans community, and I'm happy she's living her truth, but comments like hers have consequences for other women. How we are perceived, what our values are, and leads to more stereotyping. If you know you are going to be speaking to media About being a woman, maybe come to understand our struggles."
While Caitlyn's comment did propagate a harmful stereotype, it is worth noting that in the interview she goes on to say that there's a lot more to being a woman than what you wear but that she's still on a journey to figuring out her gender identity.
"Everyone around me in my family had the sense of style — I learned as much as I possibly could," Caitlyn said. "But, it's more than that. I'm kind of at this point in my life where I'm trying to figure this womanhood thing out. It is more than hair, makeup, clothes, all that kind of stuff. There's an element here, that I'm still kind of searching for."
Follow Marie Claire on Instagram (opens in new tab) for the latest celeb news, pretty pics, funny stuff, and an insider POV.
My writing has regularly appeared in The New York Times, The Paris Review, Salon, VICE, Guernica, The New York Observer, BuzzFeed, Cosmopolitan, Seventeen, Esquire, Elle, Harper's Bazaar, and many more publications.

I was previously the Senior News Editor at Best Life Online and the Viral Content Editor in the Newsroom of Hearst Digital Media. My portfolio consists of a vast and diverse body of work that includes personal essays, lifestyle articles, breaking news posts, and viral content. My areas of expertise, however, are Russia, sex and relationships, and mental wellness.