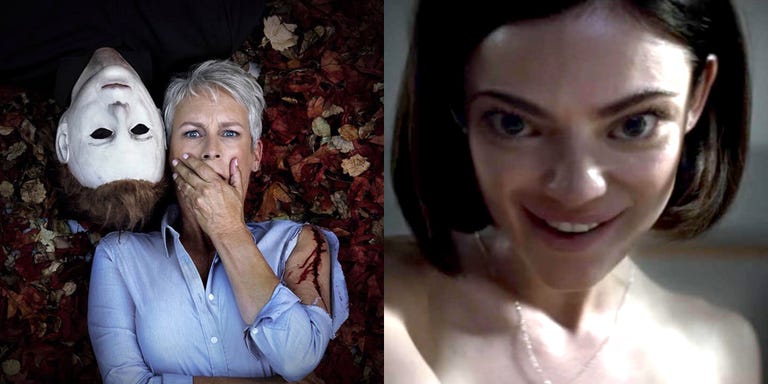 The real world is pretty terrifying these days, but if you're craving some over-the-top horror to distract you from the terrors of your every day life, here are 13 nightmare-inducing movies coming out in 2018. Fun times!
Release date: July 13, 2018.
Starring: Taissa Farmiga, Demián Bichir, Charlotte Hope, Ingrid Bisu, Jonas Bloquet, and Bonnie Aarons.
The Premise: The movie is a spin-off of The Conjuring 2, and focuses on a demon that has taken the form of a nun. So terrifying.
Release date: August 3, 2018.
Starring: Boyd Holbrook, Olivia Munn, Trevante Rhodes, Keegan-Michael Key, Sterling K. Brown, Jacob Tremblay, Yvonne Strahovski, Alfie Allen, Thomas Jane.
The Premise: Despite appearances, this movie isn't a reboot. It fits into the existing franchise as a prequel to 2010's Predators, and the cast has us more than sold.
Release date: August 10, 2018.
Starring: Jason Statham, Jessica McNamee, Li Bingbing, Winston Chao, Ruby Rose, Rainn Wilson, Cliff Curtis, and Robert Taylor.
The Premise: It's literally about Jason Statham battling a monster shark. You're welcome.
Release date: August 24, 2018.
Starring: Shay Mitchell, Stana Katic, Grey Damon, and Nick Thune.
The Premise: Anyone suffering Pretty Little Liars withdrawal should make a point to see this movie, which stars Shay Mitchell as an ex-cop starts working in a morgue and witnessing murders. It doesn't take place in Rosewood, but feels like it could.
Release date: October 19, 2018.
Starring: Jamie Lee Curtis.
The Premise: Forty years after the original Halloween, Laurie Strode comes face-to-face with Michael Myers yet again.