Fashion Diva: Christina Aguilera 1999 - 2009
Christina Aguilera has a reputation for having some of the strongest pipes in the business and an unapologetic willingness to take fashion risks. Take a look at some of her style hits and misses from past to present.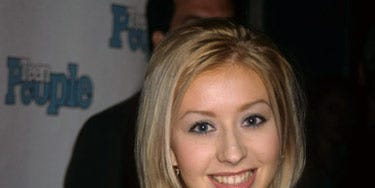 Christina Aguilera has a reputation for having some of the strongest pipes in the business and an unapologetic willingness to take fashion risks. Take a look at some of her style hits and misses from past to present.Read our interview with Christina Aguilera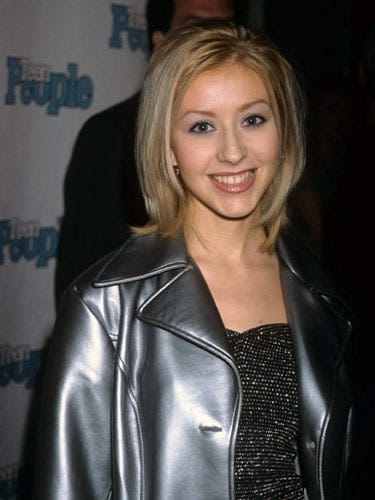 Fresh-Faced Ingénue
In 1999, 18-year-old Christina, still baby-faced and hair extension-less, makes the jump from Disney Channel star to pop singer with the release of her first album, Christina Aguilera.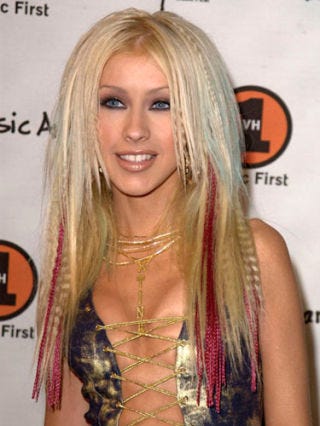 Putting Down Roots
By early 2000 she's established herself as a bona-fide pop star after clocking three No. 1 hits off her first album and swiping the Grammy for Best New Artist from fellow Mouseketeer Britney Spears. She begins to show a penchant for barely there outfits that give Cher a run for her money.
Kathryn Indiek/WireImage.com
Mixing It Up
In 2001 she records Lady Marmalade with Pink, Lil' Kim, and Mya for the film Moulin Rouge. The quartet wins the Grammy for Best Pop Collaboration and MTV's Video of the Year. Christina starts to morph her reputation as an outrageous dresser into that of a fashion chameleon by donning classic suit jackets and rasta braids over her provocatively cut dresses and unitards.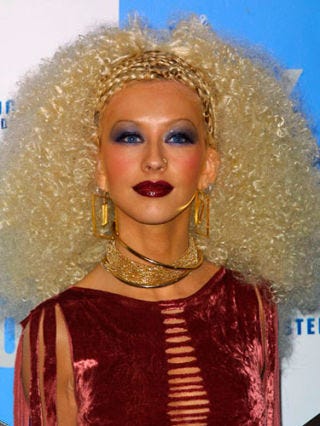 Rebellion
Despite her Lady Marmalade victory, Christina had already become a fixed member of "bubble gum" pop genre. Frustrated with these limitations, she begins to push back against the stereotype; at the Radio & Records Convention in June of 2001 she channels Elizabeth Taylor's Cleopatra, complete with a giant Afro of fake blond curls.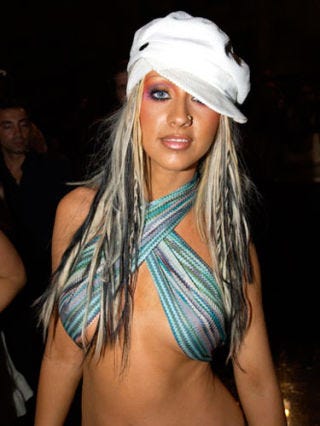 Pushing the Envelope
Eager to break with the Disney/pop scene, Christina "embraces" her sexuality with suggestive clothing and provocative dance moves while her contemporaries haggle with the media over whether or not they're still virgins. She releases Stripped in late 2002. She also adopts the nickname Xtina, has it tattooed on her neck, and gets several body piercings.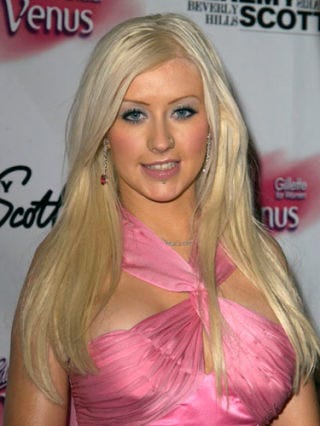 The End of an Era
By the early 2000s, Christina's established herself as pop's wild child. This photo, taken in April 3, 2003, in the wake of the release of her controversial Dirrty video, is the last time she appears to the public as a toned-down, bubble-gum-pink pop princess.
Identity Crisis
In late April of 2003, Christina goes brunette overnight. This marks the beginning of the most daring — and ill-advised — chapter in her fashion history, one often punctuated by changing hair color, hair length, and skin tone.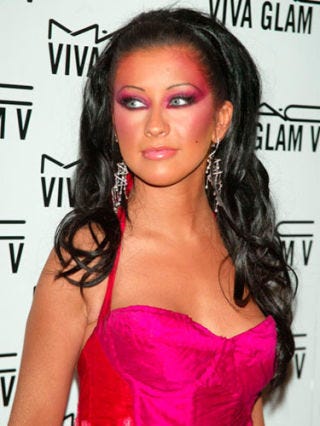 Tony Barson/WireImage.com
The Dark Age
Still rocking dark locks in 2004, Christina continues to promote Stripped and tours extensively. She begins a very public battle with bronzer. At age 23 she can no longer blame this beauty faux pas on naiveté.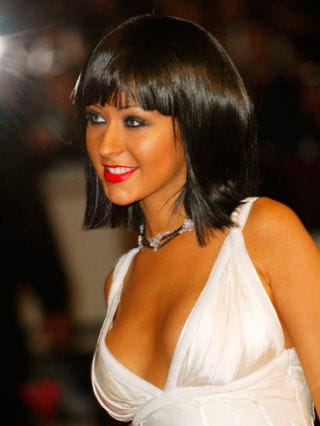 With a Bob and a Tan...
Christina releases two singles in 2004 and flirts with various styles as her skin tone takes on an unearthly hue.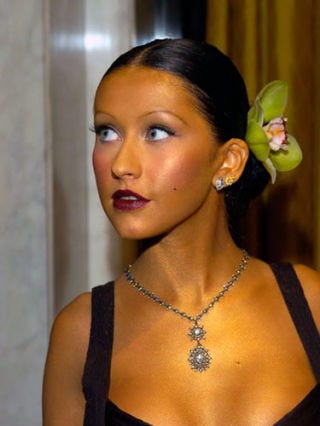 Going for Gold
In March of 2004 she appears at a charity event in an elegant dress, a demurely styled bun, and skin that glows nearly fluorescent. This is the introduction of her more refined look, but also marks the end of neck scarves as shirts.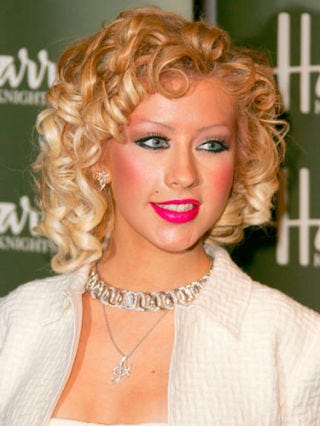 Mike Marsland/WireImage.com
Reincarnated Glamour
After ditching her dark tresses suddenly, in June of 2004, Christina returns to blond. She also starts what will become her fashion obsession with old Hollywood glamour, often dressing like Marilyn Monroe and losing the jaundiced look permanently.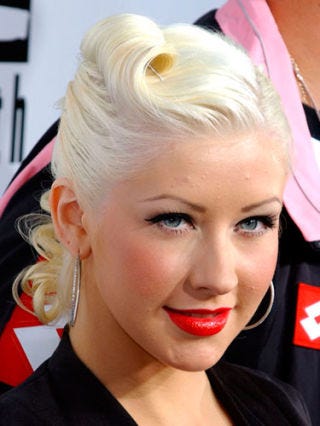 Gregg DeGuire/WireImage.com
Settling In
Almost a year later, in June of 2005, Christina wears a severely structured in '50s pinup hairstyle. She pairs it with bright red lipstick and solidly toned platinum locks, both of which she maintains today. She begins to delve into burlesque and marries longtime boyfriend Jordan Bratman.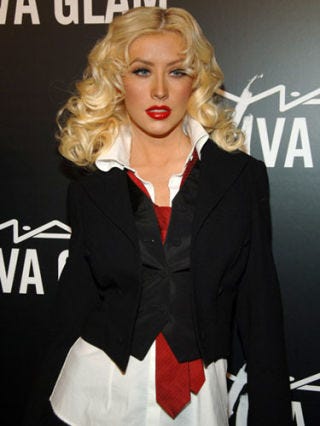 Dimitrios Kambouris/WireImage.com
Basic Instinct
In 2006 Christina releases her third English-language album, Back to Basics; she dons a style reminiscent of Sharon Stone's calm, cool '90s look, and twice as much confidence. In May she once again slips into her Marilyn persona to pose nude in GQ, then starts a fight with Mariah Carey.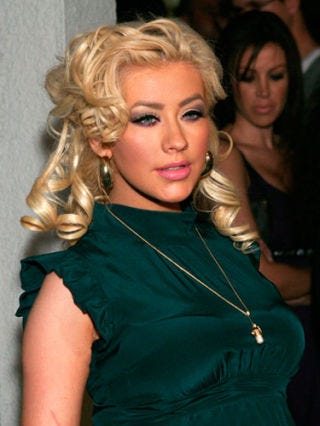 Paul Remond/WireImage.com
Coming Out on Top
A very pregnant Christina strolls the red carpet in 2007. Despite having been publicly accused of sexual frolicking (see Eminem's The Real Slim Shady), criticized for her scandalous clothing, and admonished for her sexualized behavior throughout her career, her marriage and pregnancy seem both happy and uneventful.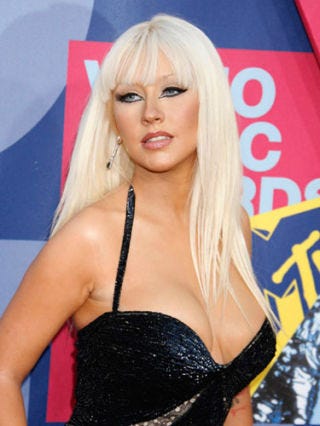 Jeffery Mayer/WireImage.com
Hot Momma
Post baby and baby weight, Christina reimerges in 2008. Stylish and svelte, she does what every woman over the age of 25 does and cuts some bangs, after selling her son's baby pictures to People magazine for a reported $1.5 million.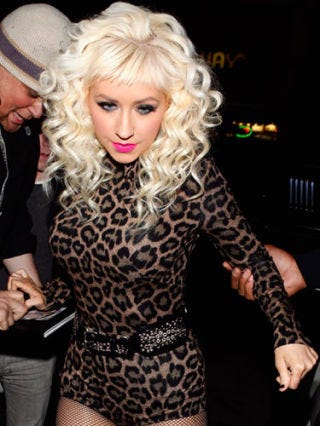 Jeffery Mayer/WireImage.com
Rebirth
Still rocking the bangs, Christina takes a page from Madonna's playbook by wearing a jungle-cat-print leotard to the 2008 American Music Awards, reminding the world that not only is she still a voice to reckon with but also a body to envy.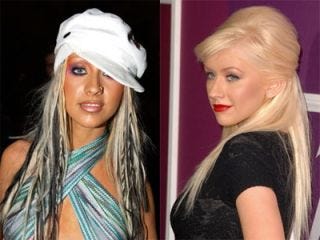 Jean Baptiste Lacroix/WireImage.com
The Long Haul
By the end of 2009, Christina is set to release another album in early 2010 and has begun filming her first feature film, Burlesque. With streamlined style and swept-back hair, she looks sleek, elegant, and confident.
This content is created and maintained by a third party, and imported onto this page to help users provide their email addresses. You may be able to find more information about this and similar content at piano.io