6 Simple Ways to Save the World
Who says saving lives has to be complicated or expensive? Sometimes the most effective solutions are also the simplest.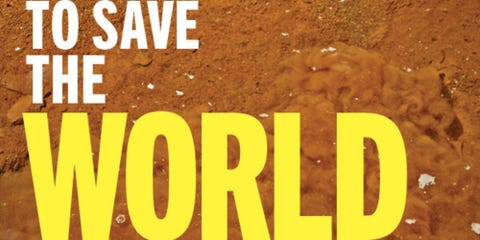 In developing countries across the globe, some of the biggest crises facing women are all about access—to education, health care, even clean water. But who says saving lives has to be complicated or expensive? Sometimes the most effective solutions are also the simplest.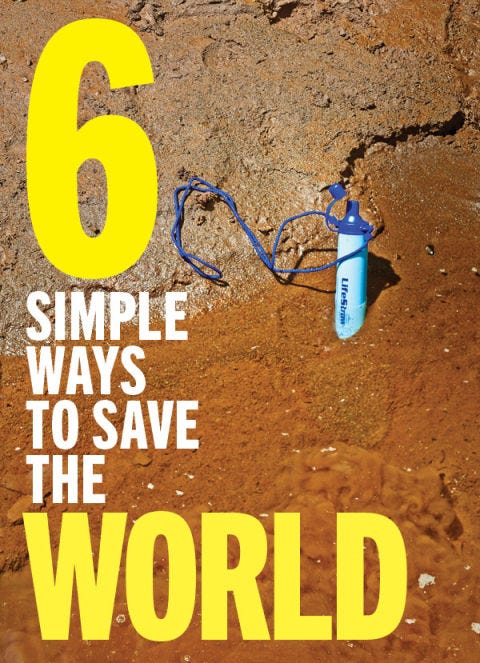 Big Problem: DIRTY DRINKING WATER
One in nine people around the globe— nearly all of them based in the developing world—lack clean, potable water. The result: 3.4 million people die of water-, sanitation-, and hygiene-related causes like diarrhea and typhoid every year.
Simple Solution: A PURIFYING STRAW
Developed by Swiss company Vestergaard, the LifeStraw eliminates 99.9 percent of all waterborne bacteria and parasites. Easy to use and cheap to manufacture, it sells for $10 to government agencies and nonprofits that buy the devices in bulk and hand them out for free. So far, LifeStraws have been distributed to millions in 64 countries.
Purchase your own LifeStraw (buylifestraw.com) and Vestergaard will distribute a portion of your payment to fund water purifiers in Africa.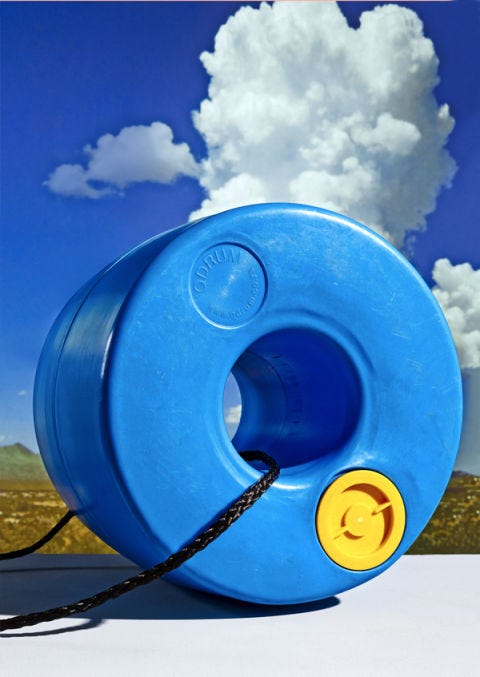 6 Simple Ways to Save the World
Big Problem: DANGEROUS ERRANDS
In poor, rural areas, where clean water can be miles away from those who need it, women and girls are usually assigned the backbreaking, sometimes treacherous work of gathering it—a chore that can take hours. The result: Many girls forgo school to be family water gatherers.
Simple Solution: A REINVENTED WHEEL
Devised by South African architect Hans Hendrikse and his civil engineer brother, Piet, the ultra-durable Q Drum holds 13 gallons of water and can be easily pulled instead of carried. At roughly $81, the Q Drum is still considered pricey, but its makers are partnering with local humanitarian groups to defray the cost.
To learn more about donating to a Q Drum project, e-mail
info@qdrum.co.za
.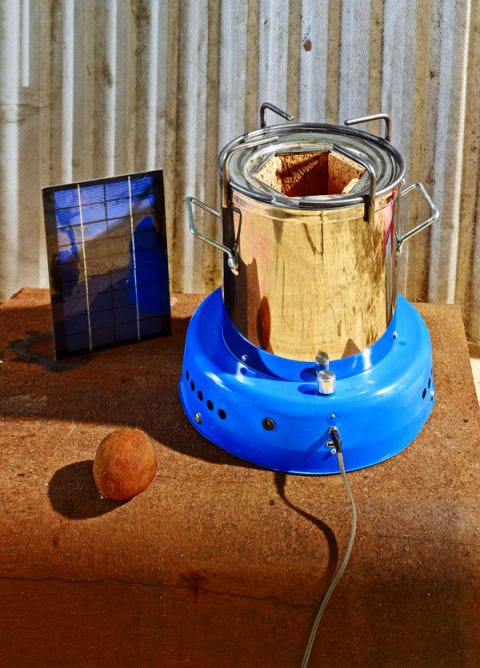 6 Simple Ways to Save the World
Big Problem: TOXIC COOKERS
Nearly half the world's population still cooks over open fires or using rudimentary stoves, with fuel consisting of whatever's cheap and readily available, like dung, coal, and wood. For the women and girls often responsible for the cooking, it's an especially dangerous chore. The World Health Organization estimates that air pollution from solid- fuel cooking contributes to more than 4 million premature deaths annually.
Simple Solution: A SMOKELESS STOVE
African Clean Energy, a South African manufacturer, sells an "ultraclean" cookstove that consumes 70 percent less fuel and reduces toxic emissions by as much as 95 percent. Priced at roughly $65, the stove pairs with a solar panel to recharge the battery and an LED light, and has a USB port to power up a cell phone while dinner's heating up.
To find out more about the ultraclean cookstove, visit
africancleanenergy.com
.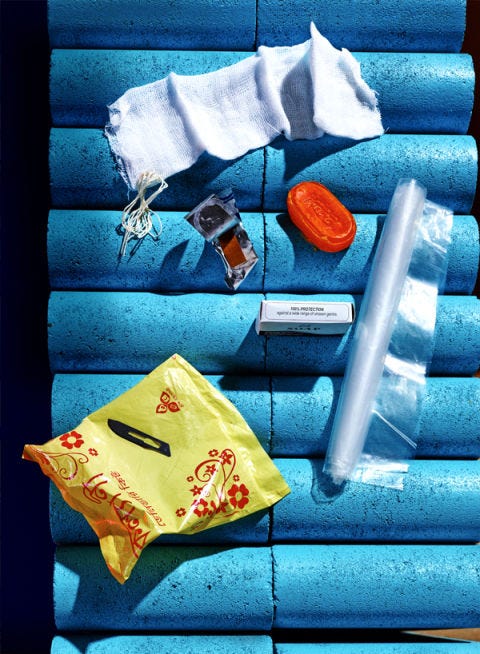 6 Simple Ways to Save the World
Big Problem: DEADLY HOME BIRTHS
An estimated 800 women die every day giving birth or from pregnancy complications—many as a result of infections and hemorrhages. Nearly all of these deaths occur in developing countries, where women routinely give birth at home without the benefit of a trained attendant.
Simple Solution: A DELIVERY KIT
In Bangladesh, where maternal mortality rates have been among the highest in the world, the nongovernmental organization BRAC sells a 40-cent, pocket-size "delivery kit," which includes gauze, carbolic soap (for disinfecting hands), a sterile plastic sheet, and a thread to tie off the umbilical cord and a surgical blade to cut it. To date, BRAC has distributed more than 2.6 million such kits, which are credited with playing a role in the 55 percent reduction in the maternal mortality rate in Bangladesh over the past 15 years.
To help support BRAC's efforts, visit
bracusa.org/donate
.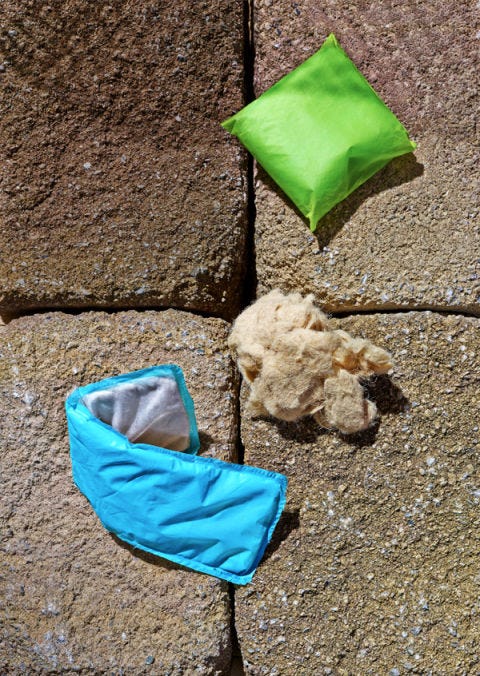 6 Simple Ways to Save the World
Big Problem: UNHYGIENIC PERIODS
In Rwanda, 18 percent of menstruating girls miss, on average, 35 days of school each year because they can't afford pads. (So they'd rather stay home than endure the embarrassment.) Some resort to alternatives like rags, leaves, and mud. Not surprisingly, these materials put girls at risk for reproductive-tract infections.
Simple Solution: A CHEAPER MAXI PAD
Sustainable Health Enterprises (SHE), founded by Harvard Business School graduate Elizabeth Scharpf, and based in Rwanda, makes pads out of banana tree fibers for just 4 cents apiece. But the production costs are borne almost entirely by donors. SHE currently donates the pads to more than 3,000 girls in 10 schools.
SHE welcomes volunteers and donors. Visit
sheinnovates.com
for more information.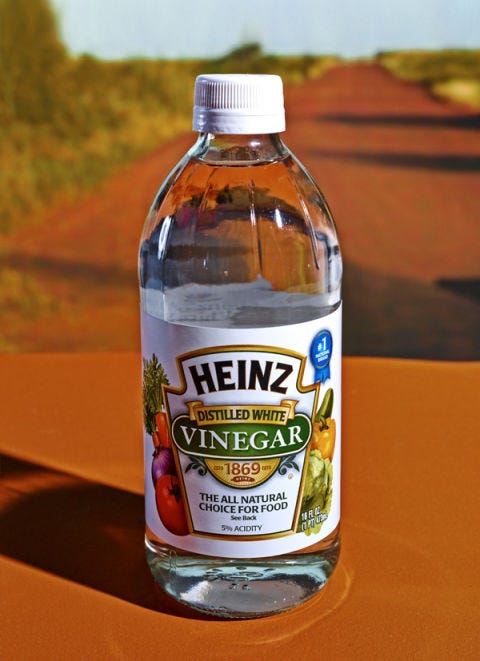 6 Simple Ways to Save the World
Big Problem: CERVICAL CANCER
It's the leading cause of cancer deaths among women in Central America and sub-Saharan Africa, where skilled medical workers and costly diagnostic tests are either unavailable or simply unaffordable.
Simple Solution: HOUSEHOLD VINEGAR
Early diagnosis using a test that relies on common vinegar has been shown to reduce instances of death by nearly one-third. With minimal training, a health-care provider can learn to swab the cervix with diluted vinegar, which causes precancerous cells to briefly turn white. Jhpiego, a nonprofit affiliated with Johns Hopkins University, is working to make the vinegar test, and same-day treatment, available worldwide.
Donate to Jhpiego at
jhpiego.org
.
This content is created and maintained by a third party, and imported onto this page to help users provide their email addresses. You may be able to find more information about this and similar content at piano.io