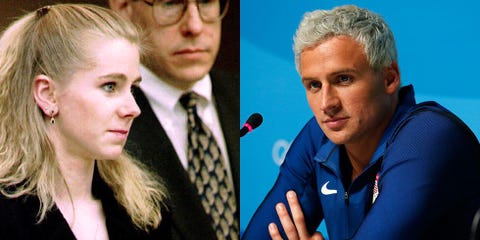 The Olympics are a time for the world to come together, but they're also a time left wide open for scandal. Here are 15 of the biggest scandals and most controversial moments in Olympics history.
1912 — Jim Thorpe Lies About Being an Amateur Athlete
When Thorpe competed in the 1912 games in Stolkholm, Sweden, the Olympics had a strict rule requiring athletes be amateurs to compete.
He won gold medals in the pentathlon and decathlon, but those awards were stripped when it came out that he had played professional minor league baseball three years earlier. The medals were eventually reinstated.

1980 — The United States Boycotts the Olympics
President Jimmy Carter announced that the United States would boycott the 1980 Olympics in Moscow to protest the Soviet invasion of Afghanistan.
1984 — The Soviet Union Boycotts the Olympics
In 1984, the Soviet Union boycotted the summer Olympics in Los Angeles. Although they said they boycotted because of security concerns, many believed it to be a direct response to the United States' boycott in 1980.
2000 — The Gymnastics Vault Is Too Low
At the 2000 Games in Sydney, several gymnasts struggled with the vault. Later, it was revealed that it was set a full two inches too low, which threw many of the athletes off. They were give a chance to perform the event again with the vault at the proper height.
2002 — Marie-Reine Le Gougne
During the 2002 Olympics in Salt Lake City, Utah, Russian figure skaters Elena Berezhnaya and Anton Sikharulidze and Canadian skaters Jamie Sale and David Pelletier were considered neck and neck. The Russian team achieved a narrow victory. After the competition, French judge Marie-Reine Le Gougne allegedly had an emotional breakdown, and reportedly claimed she had been pressured by the head of her organization to vote for the Russians. Eventually, both teams were given gold medals.
The scandal was allegedly part of a vote-trading scheme and led to a judging reform for the sport.

2016 — Russian Doping Scandal
Ahead of the 2016 games in Rio, the International Olympic Committee decided to review all of the Russian athletes slated to compete in response to allegations of widespread doping. After the inquiry, 271 Russian athletes were approved to compete and 116 athletes were banned.
2016 — U.S. Swimmers' Mugging Scandal
During the 2016 Olympics in Rio, Ryan Lochte, Jimmy Feigen, Gunnar Bentz, and Jack Conger claimed to have been robbed at gunpoint. Later, it was revealed that the so-called "muggers" were actually security guards who worked at a gas station where the swimmers had engaged in public urination and vandalism.
"I over-exaggerated that story and if I had never done that we wouldn't be in this mess," Lochte said later.