Valentino Launches the Milano Writers Campaign
Authors pay tribute to the Italian fashion house with love notes and one-liners.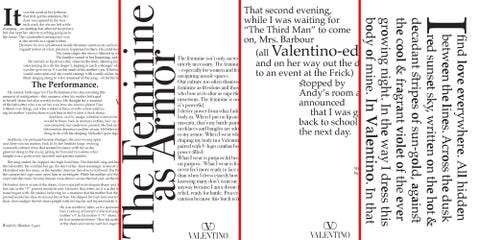 Fashion is a visual medium, and nobody understands that better than Valentino's Creative Director Pierpaolo Piccioli. Piccioli also knows that creative expression is not limited to a canvas or runway.
A fervent supporter of literary arts and culture, the Creative Director has opted to celebrate the unequivocal power of the written word with a new, text-only campaign. With the freedom to write within any genre, he invited nine renowned authors to submit texts—from love notes to one-liners—chronicling their own brushes with the legacy fashion house. By allowing words to take precedence over the traditional visual format of campaigns, Piccioli hopes to reinforce the notion that when untethered, fashion can be communicated across any forum.
Writers and poets include Donna Tartt, Elif Shafak, Janet Mock, Lisa Taddeo, Matthew Lopez, Ocean Vuong, Yrsa Daley-Ward, Fatima Farheen Mirza, and Raven Leilani.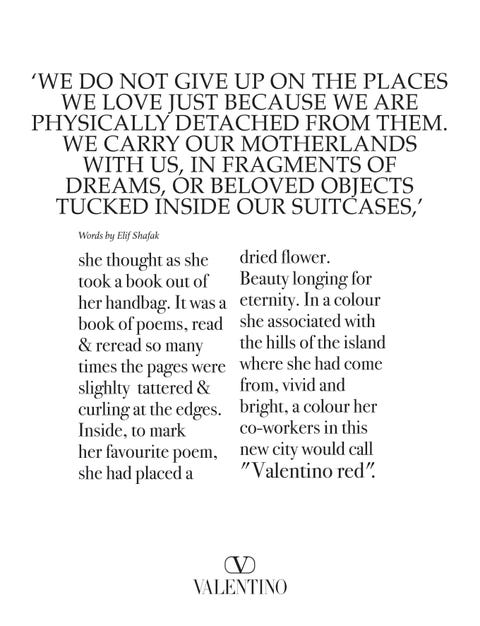 Words by Elif Shafak
'WE DO NOT GIVE UP ON THE PLACES WE LOVE JUST BECAUSE WE ARE PHYSICALLY DETACHED FROM THEM. WE CARRY OUR MOTHERLANDS WITH US, IN FRAGMENTS OF DREAMS, OR BELOVED OBJECTS TUCKED INSIDE OUR SUITCASES,'
she thought as she took a book out of her handbag. It was a book of poems, read & reread so many times the pages were slightly tattered & curling at the edges. Inside, to mark her favourite poem, she had placed a dried flower. Beauty longing for eternity. In a colour she associated with the hills of the island where she had come from, vivid and bright, a colour her co-workers in this new city would call "Valentino red".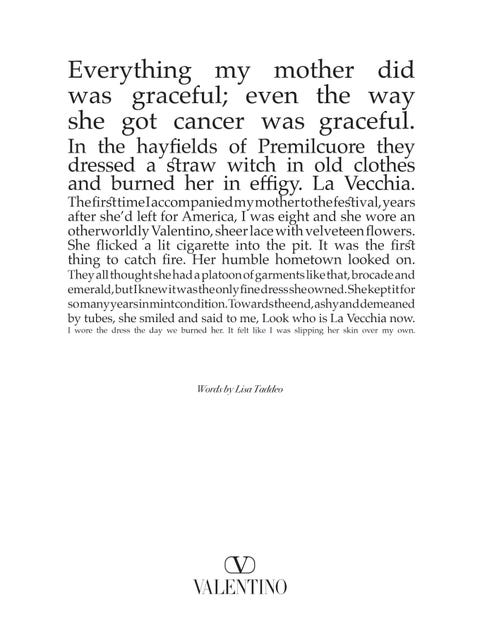 Words by Lisa Taddeo
Everything my mother did was graceful; even the way she got cancer was graceful. In the hayfields of Premilcuore they dressed a Straw witch in old clothes and burned her in effigy. La Vecchia.
The first time l accompanied my mother to the festival, years after she'd left for America, I was eight and she wore an otherworldly Valentino, sheer lace with velveteen flowers. She flicked a lit cigarette into the pit. It was the first thing to catch fire. Her humble hometown looked on. They all thought she had a platoon of garments like that, brocade and emerald, but l knew it was the only fine dress she owned. She kept it for so many years in mint condition. Towards the end, ashy and demeaned by tubes, she smiled and said to me, Look who is La Vecchia now.
I wore the dress the day we burned her. It felt like I was slipping her skin over my own.
Words by Matthew Lopez
It was the scent of her perfume that first got his attention. Her door was opened to the two inch crack she always left while changing an opening that allowed for privacy but also kept her alert to anything going on in the house. The unintended consequence was it also served as a signal to him.
He knew he was not allowed inside the inner sanctum on such occasions. He had only the vaguest notion of what, precisely, happened in there. He could hear the music playing. The same singer she always listened to while getting ready to leave. The familiar sound of her humming, and occasionally singing, along.
He moved, as he always did, closer to the door, listening for the inevitable sound of her voice joining in with the singer's, hoping to catch a Stronger whiff of her perfume. The smell was her give-away. It was the smell of his mother's joy. If history was any guide, the door would soon open and she would emerge with a smile on her face, looking glamorous, very likely singing along to what remained of the song—all for his benefit. The Performance.
He waited, both eager for The Performance but also savoring this moment of anticipation—this moment when his mother belonged to herself alone, but also secretly to him. He thought for a moment VALENTINO of the babysitter who was on her way, how she always played Uno without ever tiring, and who winked at him covertly when confirming his mother's to put him to bed at nine o'clock sharp.
And how, as if by magic, when he woke in the morning, his mother would be there, back in mommy clothes, hair up, makeup and perfume removed, but smile ever present. He had no idea what transpired between her departure and her return. He believed this reset had something to do with his sleeping. He hadn't quite figured that part out.
Suddenly, the perfume became Stronger, the door swung open and there was his mother, back lit by her bedside lamp, wearing a peacock-colored dress that seemed to dance with her as she grooved along to the music, giving for him and him alone what tonight was a particularly heartfelt and spirited number.
The song ended, he clapped, she high fived him. The doorbell rang and his mother went to greet the babysitter. He watched her go, the skirt of her dress seemingly in less of a hurry than she was. He looked into her room, at the familiar disarray that always followed The Performance. Tonight, the unexpected urge came upon him to investigate. While his mother and the babysitter talked, he crept into the room. Several dresses were strewn across the bed and, on the floor, several shoes.
He looked down at one of the shoes, drawn not just to its elegant shape and deep color, but also to the "V" printed inside its sole. He knew that letter, for it was the letter his name began with. He smiled, believing for a moment that his mother had the V printed inside her shoe to remind her of him. He slipped his bare foot inside the right shoe, then nudged the left shoe upright with his big toe and slipped inside it.
He was suddenly taller, as if a spontaneous growth spurt had overtaken him. Looking at himself in the full length mirror, he Stood there—his mother's V in his mother's "V" shoes, seeing the world differently than he had moments before. Then his mother called his name, he Stepped out of the shoes and ran to meet her, eager to get his card game underway.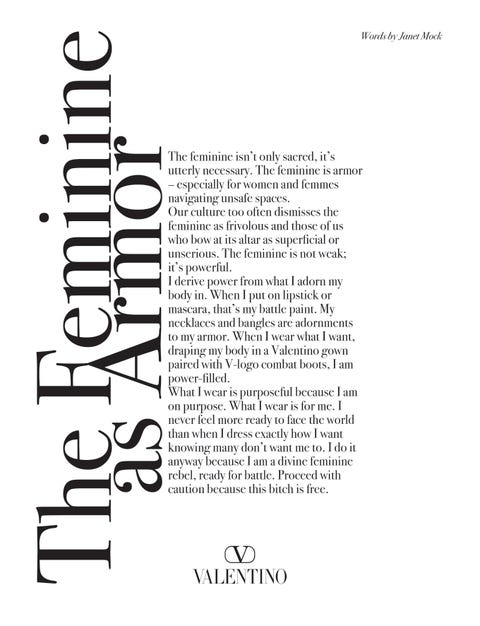 Words by Janet Mock
The feminine isn't only sacred, it's utterly necessary. The feminine is armor especially for women and femmes navigating unsafe spaces. Our culture too often dismisses the feminine as frivolous and those of us who bow at its altar as superficial or unserious. The feminine is not weak; it's powerful.
I derive power from what I adorn my body in. When I put on lipstick or mascara, that's my battle paint. My necklaces and bangles are adornments to my armor. When I wear what I want, draping my body in a Valentino gown paired with V-logo combat boots, I am power-filled.
What I wear is purposeful because I am on purpose. What I wear is for me. I never feel more ready to face the world than when I dress exactly how I want knowing many don't want me to. I do it anyway because I am a divine feminine rebel, ready for battle. Proceed with caution because this bitch is free.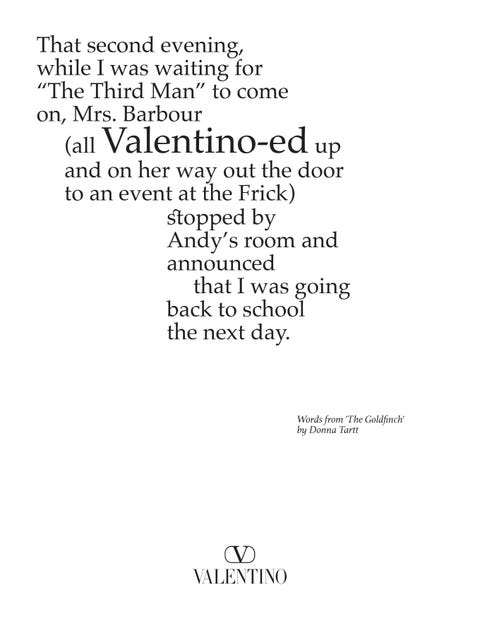 Words from 'The Goldfinch' by Donna Tartt
That second evening, while I was waiting for "The Third Man" to come on, Mrs. Barbour (all Valentino-ed up and on her way out the door to an event at the Frick) stopped by Andy's room and announced that I was going back to school the next day.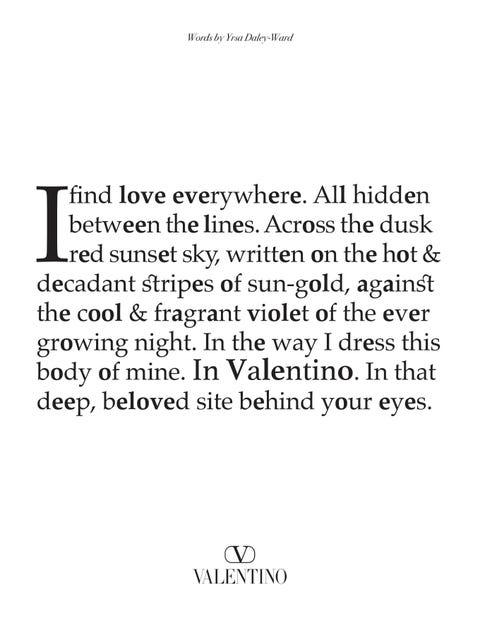 Words by Yrsa Daley-Ward
I find love everywhere. All hidden between the lines. Across the dusk red sunset sky, written on the hot & decadant stripes of sun-gold, against the cool & fragrant violet of the ever growing night. In the way I dress this body of mine, In Valentino, In that deep, beloved site behind your eyes.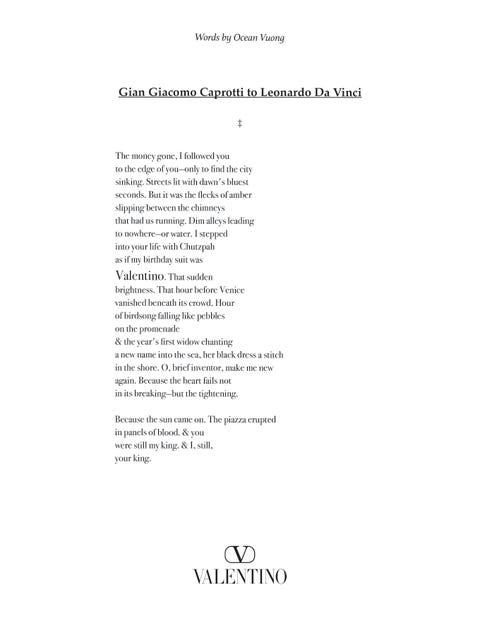 Words by Ocean Vuong
Gian Giacomo Caprotti to Leonardo Da Vinci
The money gone, I followed you to the edge of you—only to find the city sinking. Streets lit with dawn's bluest seconds. But it was the flecks of amber slipping between the chimneys that had us running. Dim alleys leading to nowhere—or water. I stepped into your life with Chutzpah as if my birthday suit was Valentino. That sudden brightness. That hour before Venice vanished beneath its crowd. Hour of birdsong falling like pebbles on the promenade
& the year's first widow chanting a new name into the sea, her black dress a stitch in the shore. O, brief inventor, make me new again. Because the heart fails not in its breaking—but the tightening.
Because the sun came on. The piazza erupted in panels of blood. & you were still my king. & I, still, your king.
This content is created and maintained by a third party, and imported onto this page to help users provide their email addresses. You may be able to find more information about this and similar content at piano.io