Editors handpick every product that we feature. We may earn commission from the links on this page.
These Gloriously Affordable Shoes Are What You Get When You Cross Kate Middleton's and Alexa Chung's Favorite Brands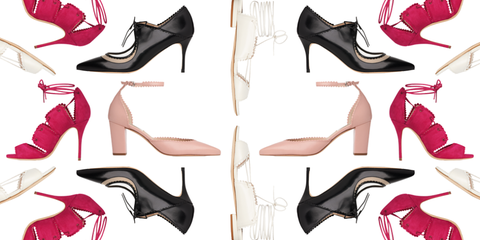 Courtesy of L.K. Bennett, design by Katja Cho
The Duchess of Cambridge gets a lot of grief (from Queen Elizabeth, mostly) for her wedges, but the latest collection from the house behind her polarizing footwear is shaping up to be a surefire hit. In its first cross-brand collaboration with cool-girl favorite Bionda Castana (out February 10), L.K. Bennett offers lace-up stilettos and lower block heels that look as good dancing on a banquette as they do at the office. Not shabby either: The $475-to-$595 price range.
This content is created and maintained by a third party, and imported onto this page to help users provide their email addresses. You may be able to find more information about this and similar content at piano.io