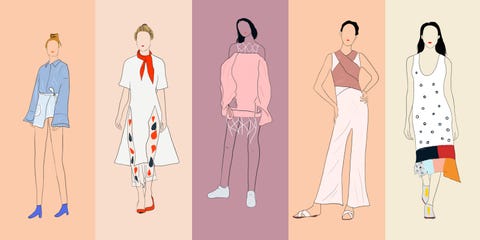 The shows of Fashion Month kick off in New York City today, and nestled among the familiar big names are a crop of young, extremely talented designers on the up and up. Here are six to keep your eye on—don't say we didn't warn you.
Designer Charles Elliott Harbison's namesake label has been around since 2013, but has gained a lot of momentum in the last few years. Having worked as a textile designer before joining the team at New York fashion powerhouse Michael Kors, Brooklyn-based Harbison cites "Bauhaus architecture and classic American sportswear" as inspirations. "The shapes and lines may be familiar," he continues, "but the execution and details are always evolving."
Designer Sandy Liang's aesthetic is decidedly downtown—employing oversized, skater-inspired cuts, motorcycle jackets, and jumpsuits, her spring/summer presentation even featured skateboards printed with her name (in pink, naturally). Liang first burst on the scene when a colorful fur coat of hers made the rounds on street-style stars, and she's only picked up speed since.
Chris Gelinas' CG line is a stunning blend of technical skill and classic luxury. The Canadian designer previously worked for brands including Marc Jacobs, Proenza Schouler, and Balenciaga before launching his own line. His spring/summer '16 collection was inspired by "fleeting moments we fight to recall," said Gelinas. "It's an escape from the noise—an intimate moment or second glance."
Andrea Jiapei Li debuted in just 2014 with her spring/summer '15 collection, and we couldn't be more excited to see where she goes. Not one to follow trends, Li prefers to work around a theme and a narrative, resulting in a line entirely different from what you'll see elsewhere. We love her unique take on silhouettes and innovative fabrications.
Haitian-born and Georgia-raised designer Azede Jean-Pierre has been showing her collections in New York since 2013, and has since been named one of the women "changing the future of fashion," by Glamour magazine. Her clothing is technically unique, as most of the patterns are designed and cut in-house, but is never so extreme that it's unwearable. Michelle Obama is among Jean-Pierre's fans, and we can't wait to see what she does this season.