A Beginner's Guide to Kanye's Circle of Fashion Designer Friends
"That was real, that was groundbreaking, that is a Real Friend."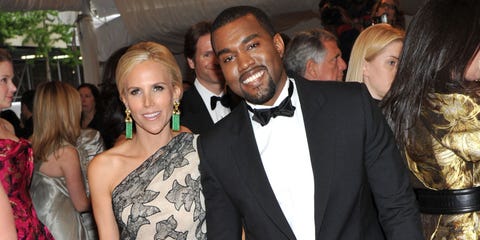 If you have been following along as Kanye Twitters himself into oblivion, you will know that he periodically interrupts his Rumplestiltskin-ian rampage to give heartfelt shout-outs to his fashion-designer buddies. Olivier, Demna, Virgil, and a few others have been named, but here, meet five others who've enjoyed Yeezy's friendship.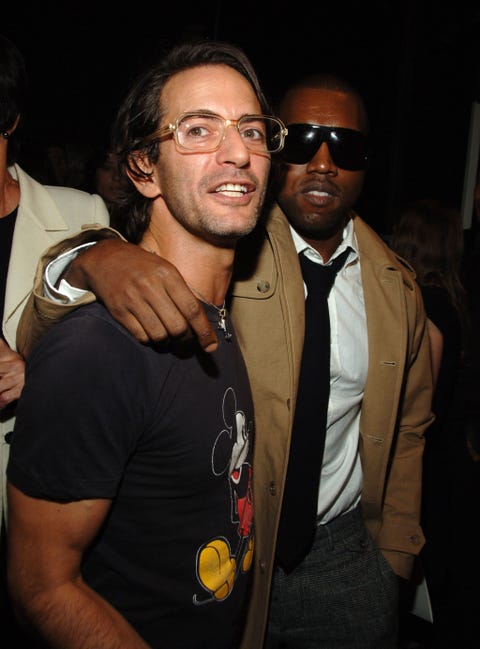 Marc Jacobs
You never forget your first...fashion mentor. In a 2015 Elle interview, Jacobs remembered how Kanye the Go-Getter basically cold-called him and cajoled the then-Louis Vuitton creative director into a collaboration. The rest is history.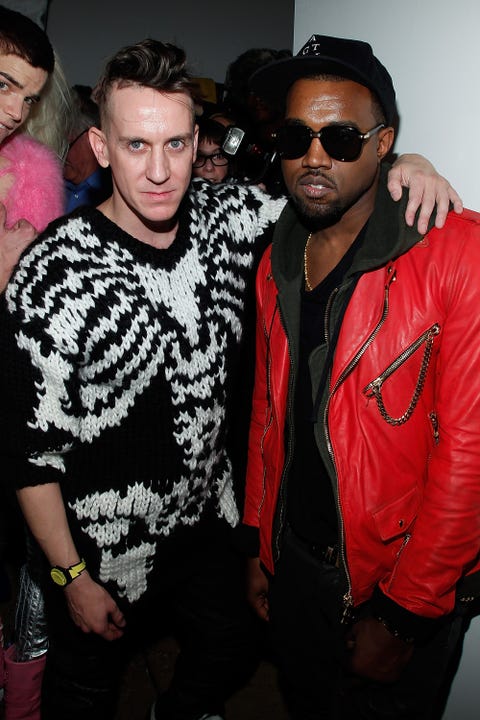 Jeremy Scott
"I'm the person who brought [Kanye West] to Adidas," Scott said in an interview with Complex Style. No small introduction, given how *that* partnership has panned out, and loyalty counts for something, even in fashion.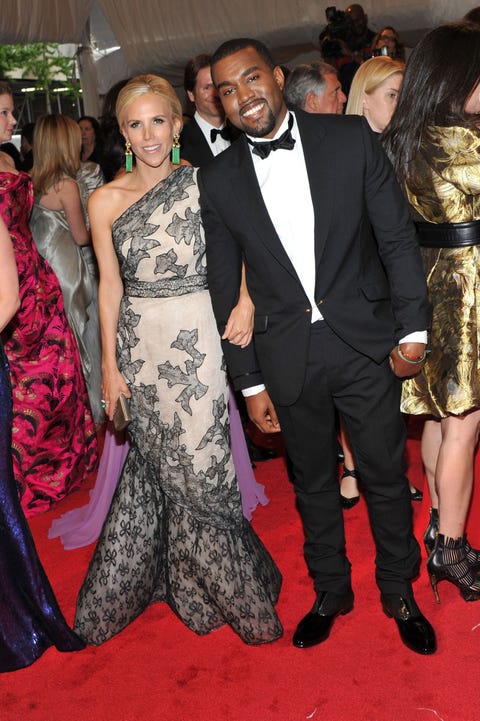 Tory Burch
I mean, she outfitted him for the 2011 Met Gala, and he once attended her 9 a.m. presentation. (That's 5 a.m. Fashion Week Time.) While they haven't collaborated recently, Kanye seems like the kind of friend who'd randomly call you like "Get dressed, bitch. We're going to Paris."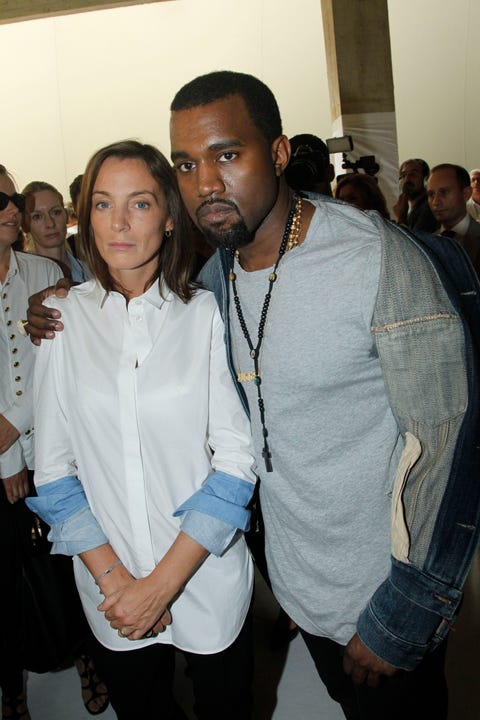 Phoebe Philo
And you thought YOU were Céline's biggest fangirl. Kanye's worn her much-copied scarf print to perform, he's name-checked her multiple times, and if that is not the shoulder grasp of someone who's met his idol and never wants to let go, I don't know what is.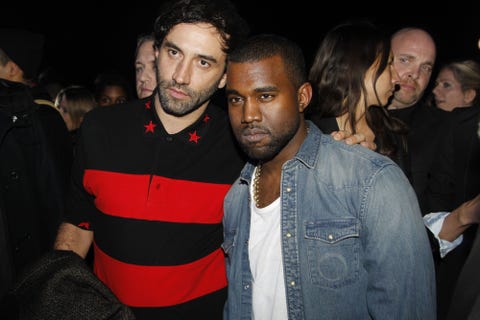 Riccardo Tisci
Kardashian red-carpet dressing is basically a ping-pong match between Givenchy and the next designer, but let the record show that Riccardo got there first—and risked the wrath of fashion's snootier set to do it. "If they're my friends, I respect them to the end," he said inDetails. "And you need to feel people stay with you because they love you, not only as an artist, but also as a human being. Look at Kanye and Kim—at the beginning I was the only one." Now look at them.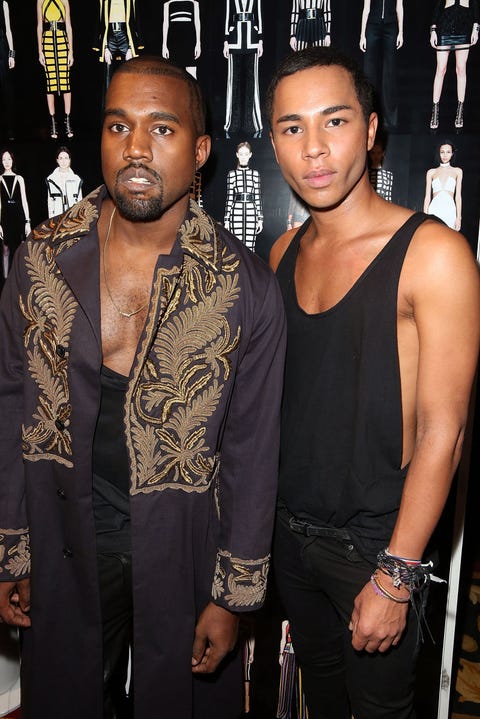 Olivier Rousteing
Two things: 1) The Balmain designer produced the elaborately beaded pieces the Kardashians wore to Yeezy Season 3, the mark of "a Real Friend." And 2) He too believes that "Kim is our modern day everything." A solid foundation, but TBH, I think it's more that he's young, fun, and really good at taking selfies.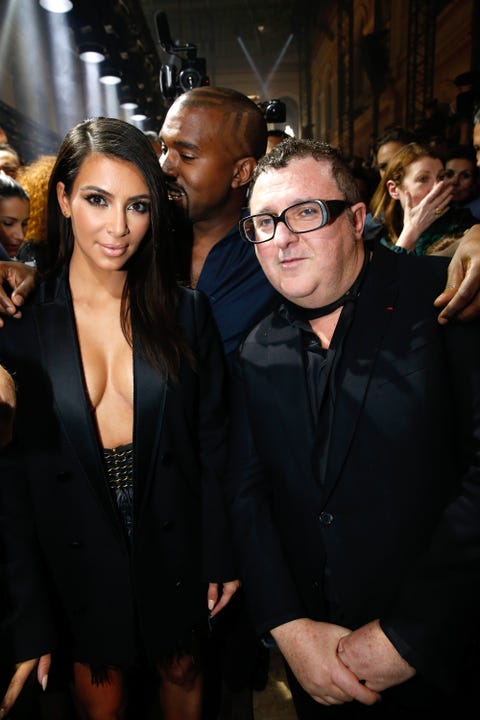 Alber Elbaz
The former Lanvin designer is known as the teddy bear of the fashion industry, so, like, who wouldn't want to be friends with him? "I really appreciate that my collection at New York Fashion Week was accepted positively," Kanye said in an interview with Paper magazine. "The moment I saw Alber Elbaz, he patted me on the back and said, 'Keep going.'" I'm not crying. YOU'RE crying.
This content is created and maintained by a third party, and imported onto this page to help users provide their email addresses. You may be able to find more information about this and similar content at piano.io