What's Cookin' With Jonathan Simkhai
Designer Jonathan Simkhai whips up a simple and satisfying snack that both kids and parents can enjoy.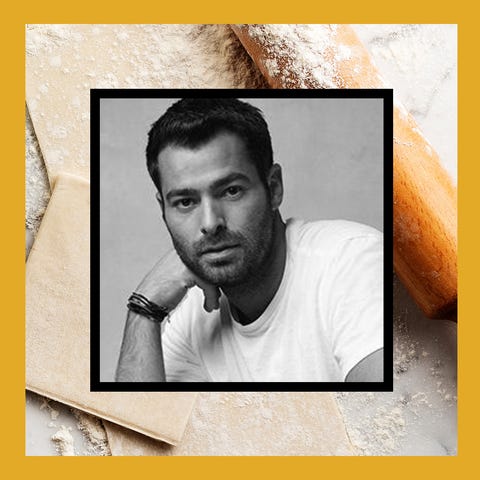 Jonathan Simkhai, designer of his namesake line is no stranger to the kitchen. With the recent launch of his Youtube series "Stay Home With Simkhai," he's sharpening his cooking skills and having a lot of fun doing it. We asked him to share a go-to snack and he's offered up kid-friendly Israeli bourekas that come together in a pinch (literally) for hungry parents in a hurry.
2 1/2 c.
crumbled feta cheese
Create a clean surface, add some flour, and lay out a sheet of puff pastry dough.
Cut the sheet into 8 rectangles.
In a bowl, mix in 1 egg to the 2 cups of crumbled feta.
By spoonfuls, add the feta mixture directly onto each rectangle on the top half.
Fold the bottom half of the rectangle over, and pinch the sides closed to seal.
Lay the pastries on a sheet of parchment on a cooking sheet and refrigerate for 1 hour.
Make an egg wash with 1 egg yolk and a little bit of water, and paint over the refrigerated bourekas.
Sprinkle sesame seeds on top of bourekas.
Cook for 15 minutes at 425 degrees until golden brown.
This content is created and maintained by a third party, and imported onto this page to help users provide their email addresses. You may be able to find more information about this and similar content at piano.io