What's Cookin' With JJ Martin
The founder of fashion and lifestyle brand La Double J shows us how to cook a super healthy Ayurvedic kitchari.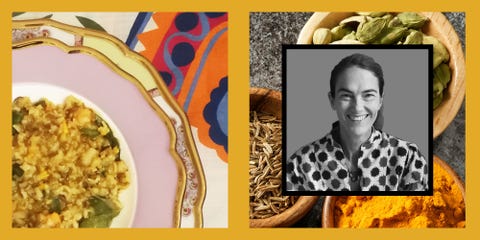 JJ Martin, founder of the fashion and lifestyle brand offering super colorful 60s prints on dresses, plates and pillows, has found comfort in cooking during this time. We've asked her to share a recipe from her Milanese kitchen that she's been relying on these days and Martin landed on an Ayurvedic kitchari. Like her bold collection, this immune-boosting dish has bright flavors that will no doubt bring happiness to your mind and body.
1 c.
mother beans (soaked overnight)
1
piece of curcuma or turmeric root, chopped
1
large piece of ginger, chopped
2 tbsp.
extra virgin olive oil
Chop the onion, ginger, and curcuma.
Add the onion, ginger, and curcuma to olive oil and fry with the spices for 10 minutes.
Add rice and mother beans, mix with the vegetables for 2 minutes.
Add 4-5 cups of water and bring to a boil.
Add the sweet potatoes and the white part of the chard, chopped, and simmer for 20 minutes.
Add the green part of the chard and let the everything cook together for 10 minutes.
Add a bit of gomashio for the garnish and it's done!
This content is created and maintained by a third party, and imported onto this page to help users provide their email addresses. You may be able to find more information about this and similar content at piano.io