What's Cookin' with David von Cannon
The New York-based supermodel hairstylist shares his vegan chilled corn soup recipe—perfect for an end-of-summer weekend.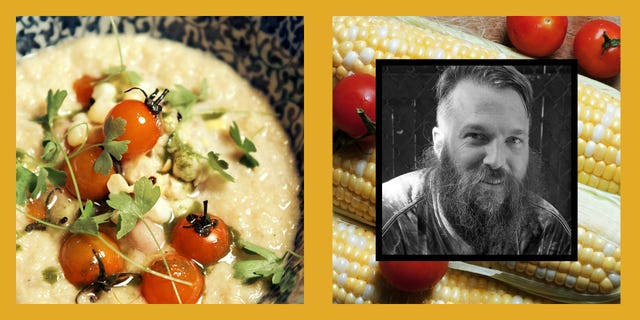 Famous for his effortless supermodel waves (see: Gisele Bündchen) and laid-back, positive vibes on shoots, hairstylist David von Cannon has been honing another set of creative skills while at home during quarantine—this time, in his NYC kitchen. In time for the final stretch of summer (and peak corn season), von Cannon whipped up this fresh corn soup recipe with deconstructed succotash—healthy, vegan, and gluten-free, and delicious served both warm or chilled.
Prep Time:
0

hours

40

mins
Cook Time:
0

hours

15

mins
Total Time:
0

hours

55

mins
Corn Soup
1
can evaporated coconut milk
2
shallots, roughly chopped
2
garlic cloves, roughly chopped
Infused Oil
any fresh herbs (i.e., basil, terragon, oregano)
Deconstructed Succotash
1/2 lb.
fresh cranberry bean, shelled
2 tbsp.
champagne vinegar
1. Remove the fresh cranberry beans from their pods and cook them in lightly salted water for about 30 minutes, or until cooked through but still intact. (If using dry beans, you will need to soak and then cook them.) While the beans are cooking, blend the oil with a couple handfuls of your herbs and transfer to a bowl or bottle.
2. Drain the beans, let them cool, and sit aside. Add the champagne vinegar and 1 tbsp. of the herbed oil to the beans.
3. Blend the oil with a couple handfuls of your herbs and transfer to a bowl or jar with a dropper.

4. Shuck all of the corn and cut the kernels off the cobs. A good trick is to invert a small bowl into a larger bowl and cut the corn off the cob on the inverted bowl. The kernels will drop into the larger bowl. Reserve two ears worth of kernels for the topping.
5. Lightly salt and pepper the reserved corn and sit aside.
6. Leave the cherry tomatoes whole or slice them in half. Toss in some of the herbed oil and a pinch of salt. Set aside.
7. Sauté the onions and garlic in grapeseed oil in a pan large enough to hold the corn. Add the cumin once the onions and garlic have started to soften; this releases the flavor. Add the kernels from eight ears of corn along with the evaporated coconut milk and bring to a simmer to slightly cook the corn. Add the mixture to a blender and blend until smooth. Sit aside and let cool or put in the fridge if you like it chilled.
8. Ladle the soup into a bowl and top with the beans, corn, tomatoes, and some fresh herbs. Enjoy!
This content is created and maintained by a third party, and imported onto this page to help users provide their email addresses. You may be able to find more information about this and similar content at piano.io