Editors handpick every product that we feature. We may earn commission from the links on this page.
10 Cooling Towels for All Your Fall Runs and Hikes
Don't sweat it — we have your sweaty workouts covered.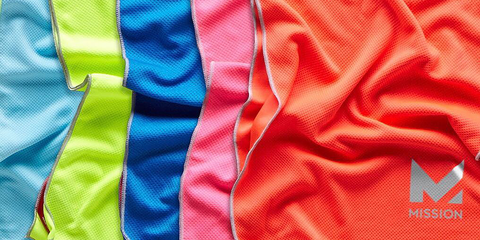 Chances are, due to social distancing, you're not going to your regular gym. Instead, you're most likely ramping up the outdoor runs and hikes, and at-home yoga and Pilates classes. We don't know about you, but even with open windows or the air conditioning running, we tend to get pretty sweaty no matter what at-home workout we're doing.

Rather than dousing yourself with your water bottle, throw one of these cooling towels right around your neck to provide immediate relief after a long, sweat-filled workout. Many of the towels are water-activated — you soak it in water, wring it out, and snap it a few times for a cool, refreshing towel that'll chill you out instantly without dripping all over the place or making a mess in your car. Check out our picks and get ready to get sweaty.

1
Best Overall
Mission Original Cooling Towel
This high-quality towel begins to cool the second it touches water. It's chemical-free, and it can be machine-washed. Bring it along on a hot, sunny day, whether you're out for a walk in the park or crushing a HIIT session. Serena Williams endorses them, so how could you go wrong?
2
Best Lightweight Fabric
W-ShiG Six-Pack Cooling Towels
This six-pack includes cooling towels made from 100% soft bamboo fiber. The mesh makes it easy for liquid to absorb quickly, and there are six different colors to choose from: lime green, pink, orange, gray, light blue, or dark blue.
3
Most Durable Material
Chill Pal PVA Cooling Towel
This 32-by-12-inch towel is thicker than most competitors, so it gets cold and stays that way! Soak it in cool water, wring it out, then drape it around your neck or over your head to help you chill out.
4
Best For Hottest Days
Mission Cooling Hoodie Towel
Some days, a towel around your neck won't cut it with intense summer temperatures. You can stick this hoodie towel on your head while you run, garden, or hang out on the beach, and it stays cool for up to 2 hours when water-activated.
The fabric also has UPF 50 protection for those long days in the sun.
5
Best for Portability
Alfamo Mesh Cooling Towel
This towel's cooling properties can be activated in seconds, and it stays cold for a few hours. It's offered in more than 10 colors, and it even comes with a small carrying case and carabiner to clip onto your bag, making it easy to take wherever you go.
It also doubles as a great, super cooling face mask for runners.
6
Best Set
Sukeen Cooling Towels 4-Pack
The whole family will be stocked with their own cooling towels if you purchase this four-pack. They're made of breathable mesh material that'll keep cool for 3 hours in the summer sun once you wet it, protecting your family members from heatstroke and any other sun-related illnesses.
7
Best Pattern
SYourself Galaxy Cooling Towel
Soak, wring, and snap! This cooling towel helps you ride out that heat wave and feel refreshed when you need it most. It's available in 14 different styles, so the options are endless when it comes to finding the perfect cooling towel to complement your look.
8
Best Sun Protection
Ergodyne Chill Cooling Towel
This cooling towel can easily be tied around your neck when it's muggy out and you're doing yard work, playing tennis, or going for a run. The microfiber fabric also has UPF 50 protection from the sun, and is moisture-wicking, so it dries to a pliable, soft towel that can be easily tossed in your gym bag.
9
Best Cooling Headband
Mission HydroActive Max Reversible Headband
No need to soak old rags or bandannas in a cooler of ice water and drape them around your head and neck. This headband has VaporActive technology to lock in moisture and stop sweat at the source — and keep you cooler for longer.
10
Best Budget Pick
Balhvit Instant Relief Cooling Towel (2-Pack)
This two-pack of towels will be your saving grace on a hot day at the golf course or the soccer field. The 40-inch-by-12-inch microfiber towels are simple to use: Just soak them in water, squeeze out the excess, and toss them around your neck to feel instant relief.
This content is created and maintained by a third party, and imported onto this page to help users provide their email addresses. You may be able to find more information about this and similar content at piano.io