9 Wedding Photographers Reveal the Most Memorable Photo They've Ever Captured
These stunning images will absolutely take your breath away.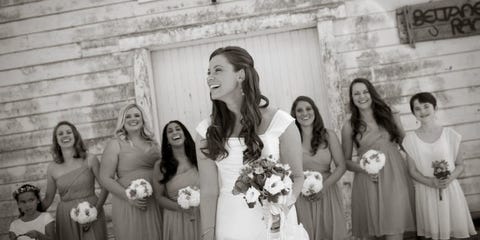 Wedding photographers capture memories that will last a lifetime. From a couple's first kiss as newlyweds to their celebratory first dance, professional photographers simply have a way of harnessing a multitude of emotions on film. And as much as we love to scroll through wedding albums, it's the stories behind these pictures that can truly transform a pretty photo into something astoundingly beautiful. To celebrate this beauty, WomansDay.com asked wedding photographers to share the most memorable moments they've ever captured — and the stories that made each photo so powerful.
1
"The father says good-bye to his little girl."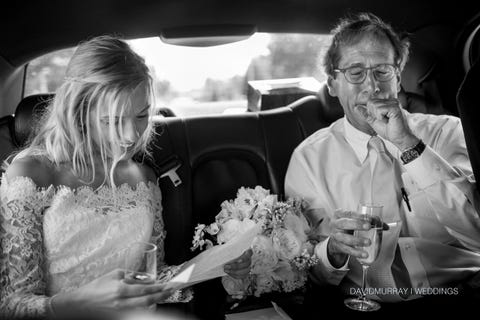 courtesy of David Murray Weddings
"I always ask to be included with all parts of a bride and groom's day, including transportation to the ceremony and reception. One never knows when that special moment and connection will occur. Caroline was reading a letter written by her dad while both were being driven to the ceremony. The letter expressed the father's love and pride for his daughter. Dad started to tear up, which made Caroline do the same. At that moment she said, 'Dad, if you continue like this I am going to ruin my makeup!' With that she started to laugh, which eventually let Dad do the same. This photo illustrates two milestones on a wedding day — that of the joyous bride and her future life, while the father says goodbye to his little girl." —David Murray, David Murray Weddings
2
"Her mom had died from cancer a few years before her wedding."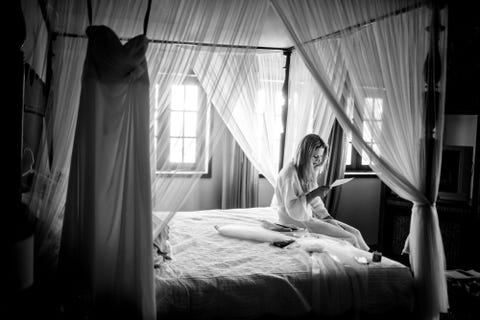 courtesy of Two Mann Studios
"This is a photo of our bride reading a letter written to her by her mother, who died from cancer a few years before her wedding." —Erika Jensen-Mann, Two Mann Studios
3
"Hope you don't mind, I'm doing a little multitasking!"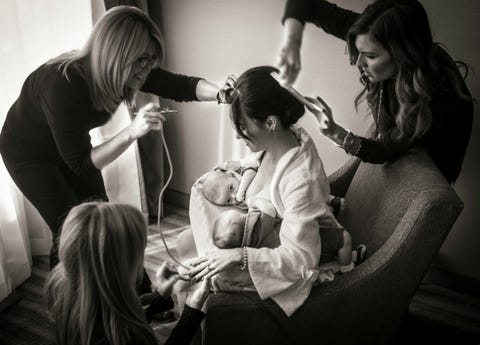 courtesy of Style & Story Creative
"Rachel connected us in January with her wedding date all set for October of that year. Two months later and we get a call that the wedding would be just a little bit different because they were expecting! Another month goes by and we get a second call. Things are going to be very different — Rachel was expecting twins and they would be about 2 months old at the wedding!"
"Fast-forward and the day is here. As I knocked on Rachel's hotel room, a bridesmaid cracked it open slowly. Rachel yells, 'Ben!! Hope you don't mind, I'm doing a little multitasking!' As crazy as it may have been in that room, Rachel made sure she was going to have the perfect morning. Her positivity and love for her twin boys and excitement for her wedding day was radiant." —Ben Adams, Style & Story Creative
This content is created and maintained by a third party, and imported onto this page to help users provide their email addresses. You may be able to find more information about this and similar content at piano.io