These 5 Plus-Size Models Formed a Collective to Prove That Fashion Is for Everyone
"I've been called a plus-size model for 15 years...but at the end of the day, I know who I am."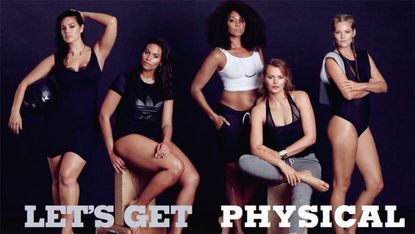 (Image credit: Bust Magazine)
When Ford models shut down its plus-size division in the summer of 2013, five of its former models decided to band together and form ALDA (which means "wave" in Icelandic), a collective to promote size diversity in the industry. Co-founders Inga Eiriksdottir, Julie Henderson, Ashley Graham, Marquita Pring, and Danielle Redman put it this way: They're staying "ahead of the curve by embracing their curves."
Now, in the February issue of BUST magazine, the five models talk about how they're hoping ALDA can be a beacon for every woman who's ever felt like the fashion industry doesn't represent them (so, most women in the world at one point or another!).
"I've been called a plus-size model for 15 years. I don't have any shame with it, I don't really care, if you want to call me 'plus,' that's fine, but at the end of the day, I know who I am," Graham says in a behind-the-scenes video of the cover shoot. "I am Ashley Graham, and I am a model—I am not just a plus-size model."
"I never really understood that gap between being a curvier model and a straight-size model; it didn't really make any sense to me," Eiriksdottir says. "As a group, I thought we'd have more leveraging power...to help push the limits in the fashion industry...I think women want to see more women they can relate to; they don't want to see everything as photoshopped."
The models say that ALDA isn't supposed to pit one body type against another—instead, they argue that ALDA is trying to embrace the "wave" (Hence the name!) of change headed toward the modeling industry and expand opportunities for all women through workshops, lectures, events, and, of course, modeling. In fact, DNAInfo reports that all five founders approached IMG Models last year and signed with the agency—and that one of the first things IMG did was submit them along with straight-size models for Fashion Week.
Henderson says: "Fashion dictates so many things in our lives, and little girls grow up thinking that this is what beauty is...And what ALDA does is say, 'Listen, every woman is beautiful'."
You should also check out:
Rejoice! Target Is Coming Out with a New Plus-Size Range
This Badass Designer Only Shows Clothes on Plus-Size Models of Color
A Plus-Size Blogger Asked 21 International Photoshop Experts to "Make Her Beautiful" and These Are the Results
8 Gorgeous Photos of Models Who Hope to Change How the World Sees Beauty (NSFW)