Ivanka Trump Responds to Critics Who Say She's "Complicit" in Her Father's Presidency
"I don't know what it means to be complicit."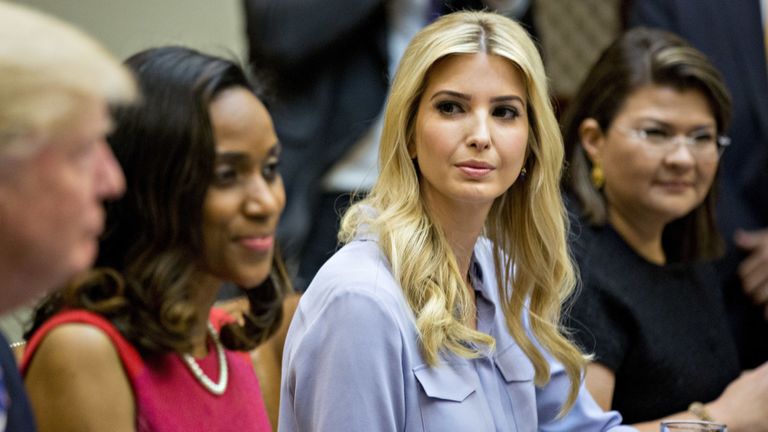 (Image credit: Gitty)
In her first interview since becoming an official government employee (opens in new tab), first daughter Ivanka Trump has offered a response to those who have criticized her and her husband, senior adviser Jared Kushner, for being "complicit" in her father President Donald Trump's presidency.
"If being complicit is wanting to, is wanting to be a force for good and to make a positive impact, then I'm complicit," she said during her interview with Gayle King on CBS (opens in new tab). "I don't know that the critics who may say that of me, if they found themselves in this very unique and unprecedented situation that I am now in, would do any differently than I am doing."
"So I hope to make a positive impact," she continued. "I don't know what it means to be complicit, but you know, I hope time will prove that I have done a good job and much more importantly that my father's administration is the success that I know it will be."
NEW: Critics accuse @IvankaTrump of being "complicit." She responds, tomorrow on @CBSThisMorning. PREVIEW: https://t.co/uuUKCN8OuA pic.twitter.com/ux43afjsm4April 4, 2017
See more
The newly named Assistant to the President also went on to explain why she doesn't believe she's complicit in her father's actions just because she chooses not to publicly voice her disagreements with him—something she's been criticized for in the past (opens in new tab).
"I would say not to conflate lack of public denouncement with silence," she said. "I think there are multiple ways to have your voice heard...Where I disagree with my father, he knows it, and I express myself with total candor. Where I agree, I fully lean in and support the agenda and hope that I can be an asset to him and make a positive impact. But I respect the fact that he always listens. It's how he was in business. It's how he is as president."
WATCH: @IvankaTrump says "not to conflate lack of public denouncement with silence." More Wed. on @CBSThisMorning: https://t.co/VB2s1NkInQ pic.twitter.com/OZTURUqpKvApril 4, 2017
See more
According to CBS (opens in new tab), Trump also addressed her husband's apparent lack of qualifications for his White House role by comparing him to her father.
"So, you know a lot of people would say the same about how could somebody successfully win the presidency who had never been engaged in politics and my father did that and Jared was instrumental in helping his campaign succeed," she said. "So, you know Jared is incredibly smart, very talented, has enormous capacity. He is humble in the recognition of what he doesn't know. And is tremendously secure in his ability to seek informed viewpoints. He has an amazing team that my father has built at the White House, and that he's built that's helping work on each of these initiatives. So you know the myth that he is operating in a silo is just that."
You can watch Trump's interview in its entirety on CBS This Morning, Wednesday, April 5 at 7 a.m. EST.
Follow Marie Claire on F (opens in new tab)acebook (opens in new tab) for the latest celeb news, beauty tips, fascinating reads, livestream video, and more.
Gina Mei is a writer and editor based out of Los Angeles. When she isn't writing, reading, and lost in an Internet vortex, she can usually be found petting the nearest dog.