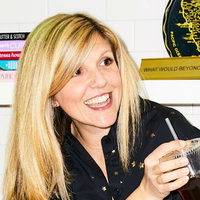 Hometown: North Caldwell, NJ
7-second life story: I am best described as Captain Chaos—I love my family, my Delish team, loud music, science-fiction movies, laughing, and making people happy. I hate waiting, silence, and people who are downers.
Recipe I'm semi-famous for: Banana bread. And millionaire shortbread. And Texas sheet cake.
My drunk food is: French fries...If I'm remembering those drunken nights correctly.
Celebrity I'd love to have dinner with: Harrison Ford! ARE YOU KIDDING ME?!
Cooking fail I'm most likely to commit: Not reading the recipe all the way through...Sometimes I get distracted. Also loading the dishwasher wrong.
If I could only eat one thing for the rest of my life: Dairy Queen and Diet Coke. (I know that's two. Consequently that would also be my band name.)
Dish I'm notorious for making NOT delish: Pizza dough. An epic fail many times on many levels.