Expensive Beauty Looks for Less
When money's no object, getting great hair, skin, and makeup is easy. For the rest of us, it's trickier. Here, pros reveal the hallmarks of heiress-worthy looks — plus, surprising ways to score them without spending a fortune.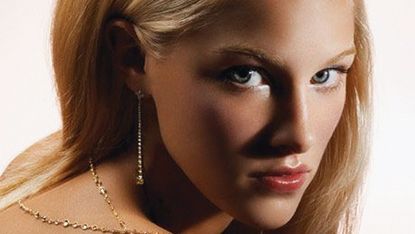 (Image credit: Greg Delves)
High-Class Hair
Hallmark #1: Luster
"Rich girls always have shiny, touchable hair," says Kevin Lee, creative director at the Kenneth Salon in New York City.
Get-it-for-less tips:
Scale back on shampoo (limit to three times a week); your scalp's natural oils will hydrate your hair.
Stay away from mousse. While it does add body, it also dulls your finish. Stick to creams and gels.
MC recommends: Kenneth Polishing Cream
Hallmark #2: Lush Color
"Rich hair is never flat or monotone," says Sharon Dorram, a colorist at John Frieda's 76th Street salon in New York City.
Get-it-for-less tip:
Base your color on your budget, says Lee: If you can't afford monthly touch-ups, opt for a lower-maintenance look. Try a single-process shade simply one tone deeper or lighter than your natural hue — or a quarter-head of highlights, which requires touch-ups only three times a year.
Hallmark #3: A Customized Cut
"Moneyed hair is never trendy or celebrity-driven," says Lee. "The rich get simple, classic cuts that flatter their face and body."
Get-it-for-less tip:
Forget the every-six-weeks rule. To get a truly tailored-to-you cut, you probably will have to pay up, says Lee. But you should only have to splurge two or three times a year; a really great cut ought to last for months. And if you need a trim in the interim? Pop into a chain like Supercuts and ask the stylist to "dust the ends."
For luxuriously shiny locks:
Splurge: La Prairie Cellular Intensive Hair Repair Mask, $27
Steal: Kiehl's Silk Groom Serum, $15
Upscale Skin and Nails
Hallmark #1: A Gorgeous Head-to-Toe Complexion
"You won't see sunspots or pimples on expensive skin," says Ann Marie Cilmi, senior manager of training at Bliss Spas.
Get-it-for-less tips:
Get salon facials seasonally (rather than every six weeks). And if that's still too frequent for your budget? Give yourself weekly facials using an at-home exfoliator and a mask that's right for your skin type.
MC recommends: Lancôme Resurface-C Microdermabrasion Kit, Mario Badescu Skin Care Temporary Lifting Mask
Treat your skin below the neck. "I can tell a woman is really well-groomed if her neck, chest and hands are also in great condition," says Cilmi. To avoid costly in-office treatments to reverse the signs of aging, Cilmi recommends slathering on sunscreen and using your face products on these areas, too.
Spring for a product with a pentapeptide. To improve skin's firmness and obscure wrinkles, nothing outside of a doctor's office is more effective than a pentapeptide cream, says cosmetic-surgery consultant Wendy Lewis. One of her favorites is even available at your local drugstore: "Olay's Regenerist line is superb. You don't need to pay more for another product."
Grab some gaba — before blowing your budget on botox. This muscle-relaxing ingredient immediately (but temporarily) relaxes fine lines, at a fraction of the cost of one Botox treatment (about $100 per jar of gaba cream, versus up to more than $1,000 per Botox treatment).
MC recommends: Dr. Brandt Crease Release, DermaDoctor Immobile Lines Instant Topical Line Relaxer
Go for the bronze. To disguise skin troubles, make self-tanning part of your regimen, says Kimara Ahnert, who owns a spa and makeup studio on Madison Avenue in New York City. It camouflages cellulite, spider veins, and sun damage for less than the cost of lasers. Go with something subtle (choose a build-a-tan formula or mix the tanner with your daily body lotion), so you look like you're glowing rather than hitting the tanning bed.
MC recommends: Jergens Natural Glow Daily Moisturizer
Hallmark #2: Perfectly Manicured Hands and Feet
"Rich nails are short, oval-shaped, or softly square, and painted in subtle colors — or no color at all," says Gabby Contino, a manicurist at Frédéric Fekkai Salon in New York City.
Get-it-for-less tips:
Make your mani gleam. Classic colors (think pale pink or taupe) with a shot of opalescence or shimmer look super-rich and stay shiny for days.
MC recommends: Essie Nail Colour in Imported Champagne
Get buffed. Buffed nails look groomed for weeks because they never chip, says Jan Arnold, cofounder of Creative Nail Design.
MC recommends: Creative Nail Design's new Glossing Buffers
Commit to cuticle oil. Ragged cuticles are a sure indication of "working hands," says Valentina Bayramyan, a manicurist at Frédéric Fekkai's Beverly Hills salon. So keep cuticle oil (or cream) in your purse, glove compartment, desk, etc., and apply as often as you do your lip gloss.
MC recommends: Creative Nail Design Rejuvenator and Solar Oil.
For a solid-gold glow, tip-to-toe:
Splurge: Self-tanner treatment at high-end spa, about $90
Steal: Neutrogena Sunless Tanning Lotion, $8.99
Moneyed Makeup
Hallmark #1: Professionally Shaped Eyebrows
"Well-groomed brows give your face polish," says Ahnert.
Get-it-for-less tip:
Visit a pro shaper four times a year. Maintain in between by removing strays yourself, says Ahnert.
Hallmark #2: Flawlessly Applied Foundation
"A rich girl's face never appears greasy or masklike," says Ahnert.
Get-it-for-less tips:
Choose a cheap, sheer formula. Because you can't try on drugstore brands, opt for one of the excellent transparent, light-reflecting formulas. They are goof-proof, leave a natural finish and are just as good as anything you'll find at a department store, says Ahnert.
MC recommends: Neutrogena Skin-Clearing Clean Tint, Revlon Skinlights Diffusing Tint Foundation
Ditch the velvet powder puff. A brush lays down pressed powder more evenly, while allowing your skin to show through (puffs tend to leave you looking like a powdered donut). Plus, you'll save money because a good brush lasts a lifetime, while a puff must be replaced every six weeks.
Hallmark #3: Dark, but Never Clumpy, Lashes
"Rich women often get their lashes tinted so their eyes always look 'done,' even when they're wearing no makeup," says Ahnert.
Get-it-for-less tip:
Use volumizing mascara — and a tissue. Take your mascara wand, dip it in the tube, wipe it on a tissue several times to remove excess product, then apply it, says Ahnert. You'll get the natural-looking (nonclumping) effect of tinted lashes, without the financial investment.
MC recommends: Lancôme Amplicils in Black.
For a posh, plump pout:
Splurge: Restylane, $400 and up
Steal: Freeze 24/7 PlumpLips Lip Plumper, $40