Hitting the New Sex and the City Hot Spots
Sex and the City cosmo-sloshing devotees can pack one of those big double-decker buses for a guided tour past some of the movie's most memorable locations.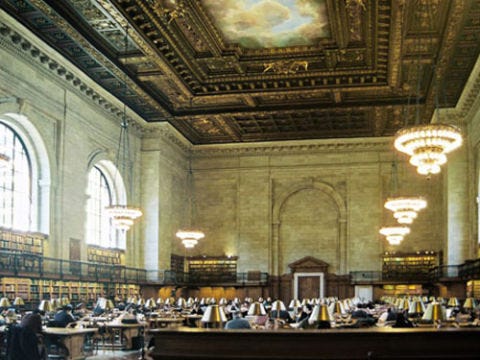 The New York Public Library
The moment: Carrie — "The last person in New York to check out library books," according to Big — stops in to return them when she spots preparations for a wedding. Cue the inevitable lightbulb. Even if Big can't write a love letter, they'll get married in a place that houses all of the world's great love letters. Find it: On Fifth Avenue and 42nd Street. Take home: A copy of Love Letters of Great Men, volume one.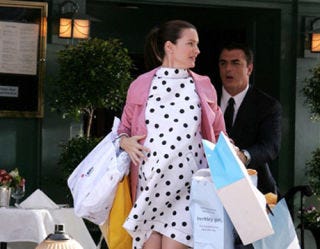 Lumi Restaurant
The moment: Charlotte, who's been plotting the way she'll finally tell off Mr. Big if she ever sees him again, spots him at Lumi, an Italian restaurant. The sighting unnerves her, and she flees outside to avoid him. Of course he races after her, whereupon Charlotte's water breaks on the sidewalk in front of the restaurant. Find it: At 963 Lexington Avenue between 70th and 71st Streets on the Upper East Side, Charlotte's neighborhood, just a quick trip to Lenox Hill Hospital, where Big then shuttles Charlotte to have her baby. Take home: The fusilli alla Siciliana, whole wheat pasta with eggplant and fresh mozzarella.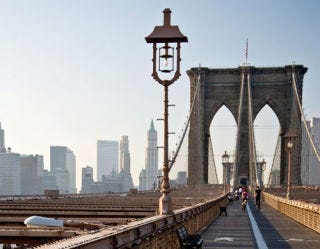 The Brooklyn Bridge
The moment: An estranged Miranda and Steve decide to meet in the center of the Brooklyn Bridge. The problem with such meetings, says Miranda, is that if the other person doesn't show up, you're rejected...and on a bridge. Find it: Start east, from the Manhattan side, near City Hall. Take home: Someone you're willing to start fresh with, or at least some severely windblown hair.
This content is created and maintained by a third party, and imported onto this page to help users provide their email addresses. You may be able to find more information about this and similar content at piano.io